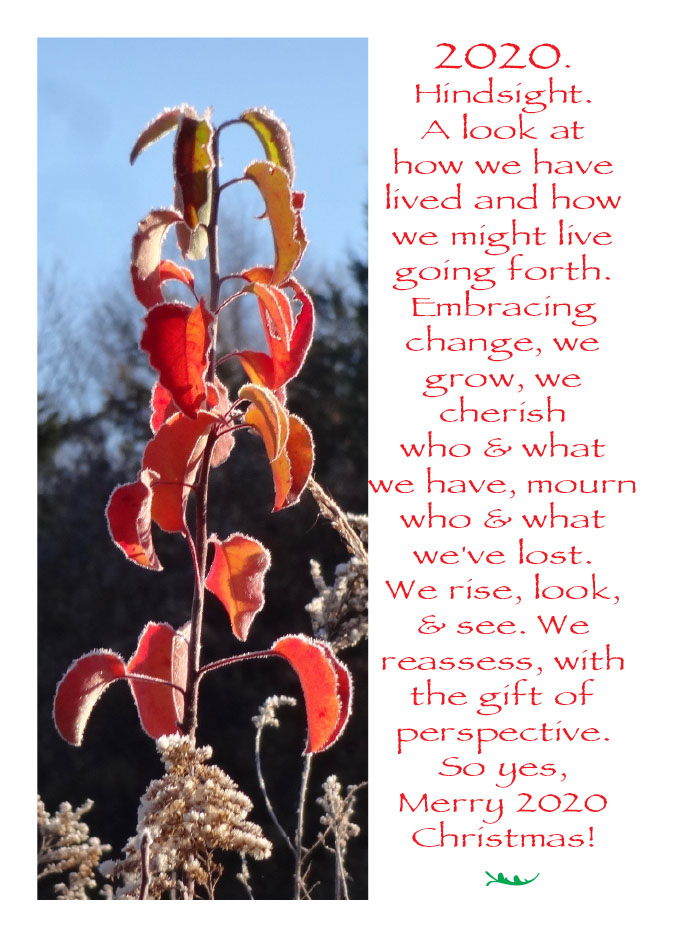 Some years I write and design a Christmas card that's just for friends and family, one that expresses my thoughts about the year. I did that in 2007, after I'd had a bad auto accident, broken my neck and somehow escaped paralysis. I felt incredibly lucky!
This year, like that one, calls for a special card. I have again been lucky. I've lost no loved one to the virus. At the outset I thought such a loss was a given. Instead, I've gained some wonderful things from this difficult year. I've reassessed many things, made some changes that have been fulfilling. I've learned more about who and what means most to me. I hope you have, too, amid the pain and difficulty. I hope you, too, have discovered some energizing change this year.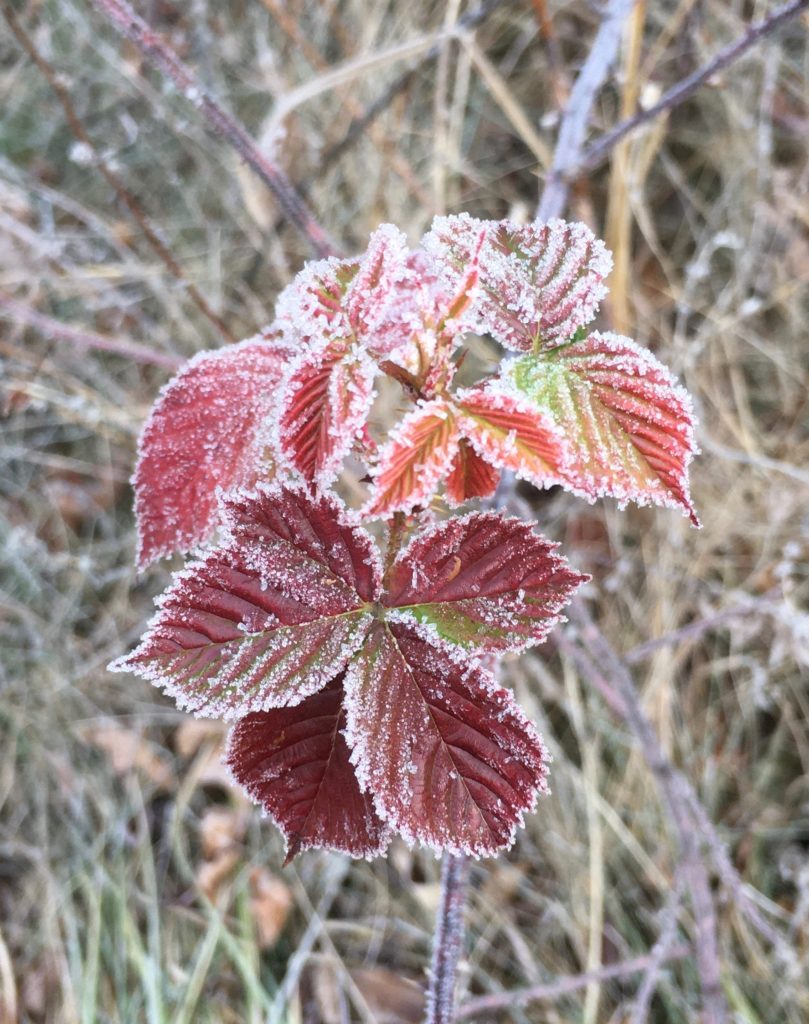 So here we are–it's Christmas Eve. I have fond memories of buying Christmas trees from the Optimist Club. One of the first years I was on my own with my three small boys, I was feeling less-than because our little family included just me and my boys. But a very kind older gentleman who'd helped us with the tree said to me, "You sure have a nice family." It was just what I needed to hear and he probably had no idea what it meant to me. I've never forgotten that. He made the Optimists our Christmas tradition.
This year there was, apparently, a tree shortage. At the Optimist lot, I found the gates locked and not a stick of anything inside. Crestfallen, I ended up getting a scrawny Fraser Fir at the hardware store. It is so skinny and sparse I can pick it up with one hand and I swear I could carry it around all day while playing pickleball, cleaning house, walking the dogs, and baking cookies. 🙂
But now that it's full of lights and decorations, I'd say it's a perfectly lovely tree. Our own Charlie Brown tree for a nice cozy Christmas. My son, our two dogs, and me. I hope your Christmas is just as cozy.
"Three things in human life are important: the first is to be kind; the second is to be kind; and the third is to be kind."
― Henry James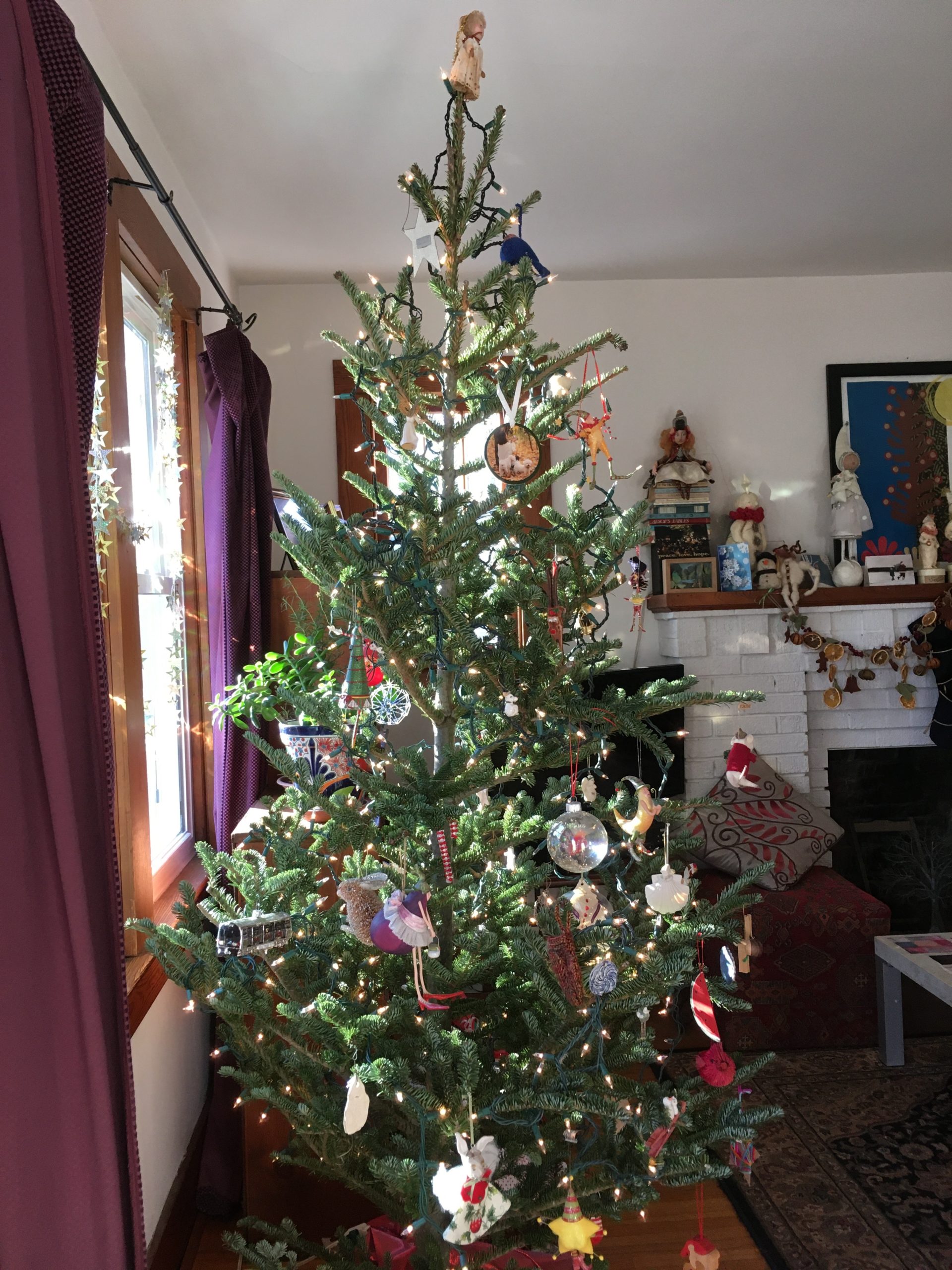 If you're looking for my cards or art, you'll find all of that on my website. And if you like this letter, you'll find past letters and poems right here.
It's nice for me to think of you out there, reading this. I hope your holidays are filled with renewal and hope, merriment and laughter.
Thanks for listening,
Kay
P.S. MerryThoughts is the name of my first book, out of print at the moment. The word is a British one, referring both to a wishbone and to the ritual of breaking the wishbone with the intention of either having a wish granted or being the one who marries first, thus the "merry thoughts."