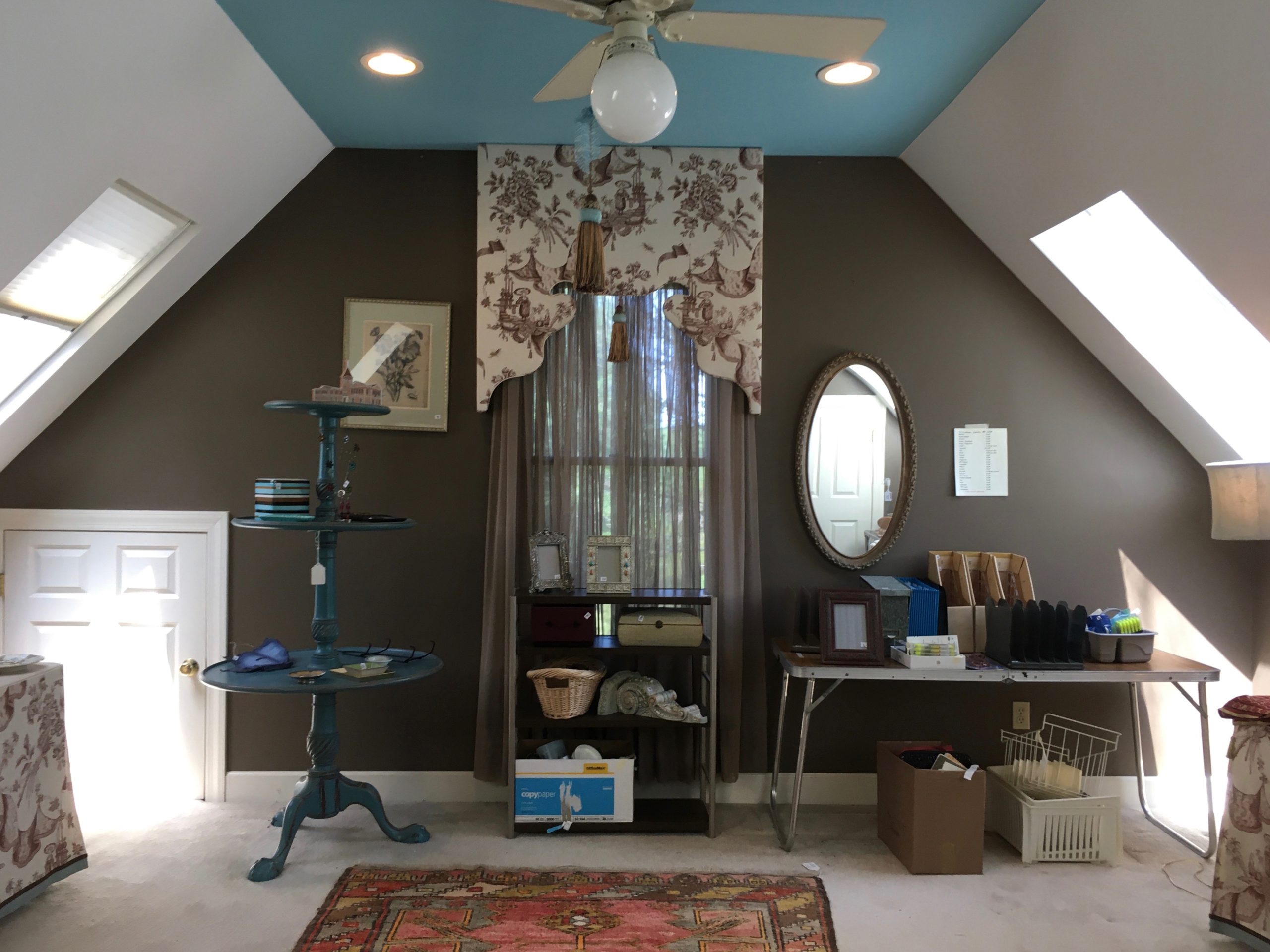 I am an estate sale shopper. I love them. As a home health nurse friend of mine once said, I like seeing inside other people's homes. That is to say, I like seeing inside of the big old homes that usually host estate sales. And then I like looking through all of the interesting stuff that people have brought home from their travels, all of the art they've purchased, all of the minutiae and this and that, found, purchased and saved for God knows how long. Then, too, it's interesting to imagine what all has gone on in those homes and with all of that stuff. What sort of parties did they throw with all of that fancy glassware? Who polished the silver?
I think I just went to one of the best ones I've ever been to. My favorite thing in the whole place was an upstairs bedroom, the one pictured above, with four dormers and four skylights. I imagined lying in bed under one of those skylights, looking at the night sky. Sigh. There were two doors in that room, one only about three feet high. Oh, what mischief a person could get up to in a little hideaway like that! A light switch and carpeting made it nice and comfy. What might I do or put in there if that were my little closet? A small stuffed chair and books, perhaps. A tea set. Or piles of pillows and books. There was another closet door, just tall enough for me to walk through, i.e. a little under 5' tall. I went away wondering how I could make my own upstairs bedroom more like that one. Not possible, of course, but these things always seem possible to me in those moments.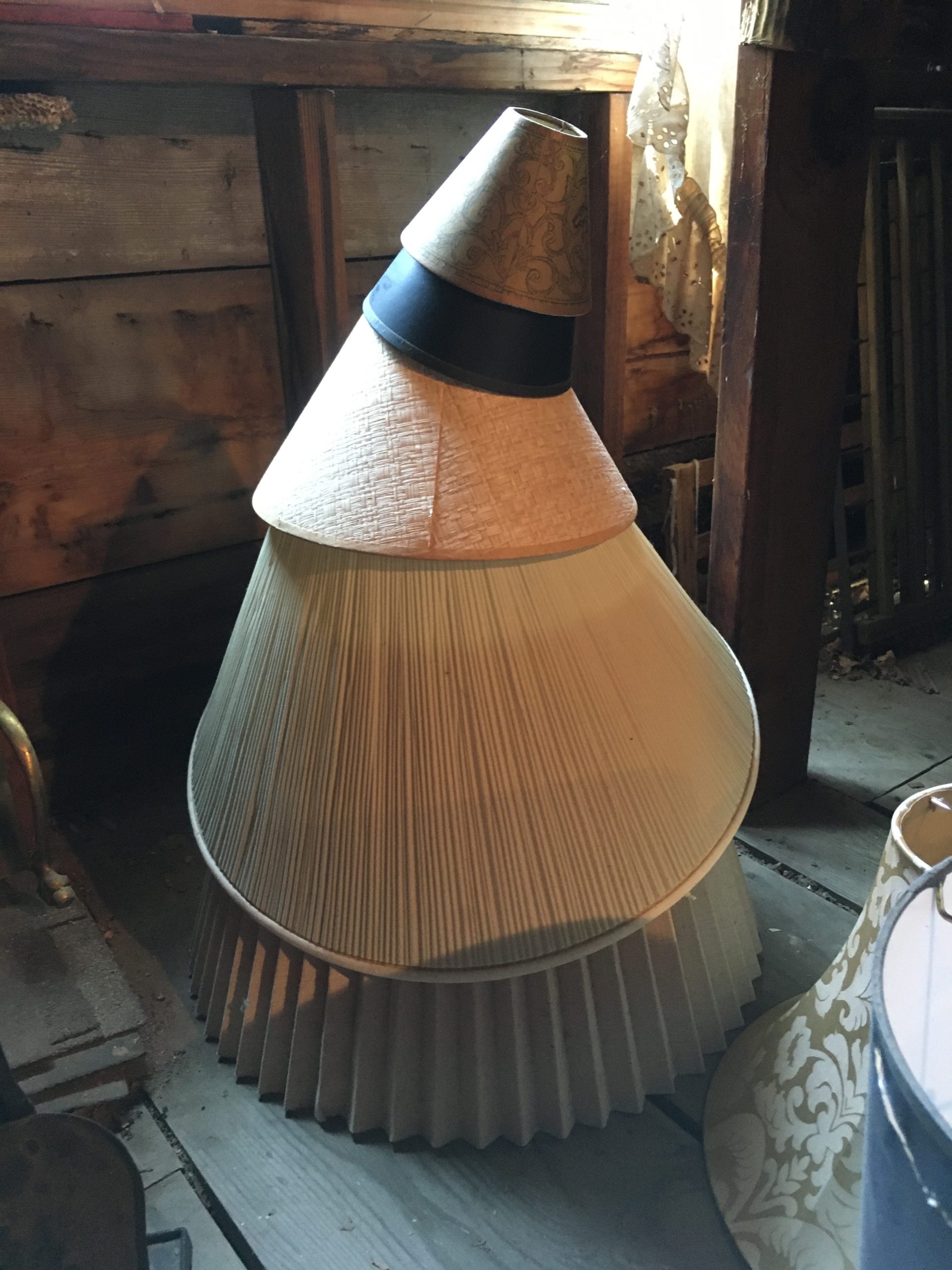 Then there were all of the things! It took me a very long time to peruse everything. A lovely sunroom held a ship's wheel, various model oceangoing ships, and other nautical treasures, as well as maps and blueprints. A Miro lithograph, signed by the artist, hung on one wall. $9600! A Chagall lithograph. Wow. Two of my favorite artists. A sitar. A whole long table filled with model train tracks, trains, and stuff to place all around the tracks. All kinds of art covering the walls. Interesting knickknacks from other lands. Jewelry, clothing, dressy shoes, scarves, purses. A box full of antique baby shoes. An ornate folding screen. A portable bar with lots of martini glasses. A child-sized silver coffee service.
We were allowed to go into the attic, too. More opportunity for the old (young) imagination to take over. In there I saw a whole set of antique robin's egg blue luggage, including the cosmetics case. And a stack of lampshades that looked like a sculpture.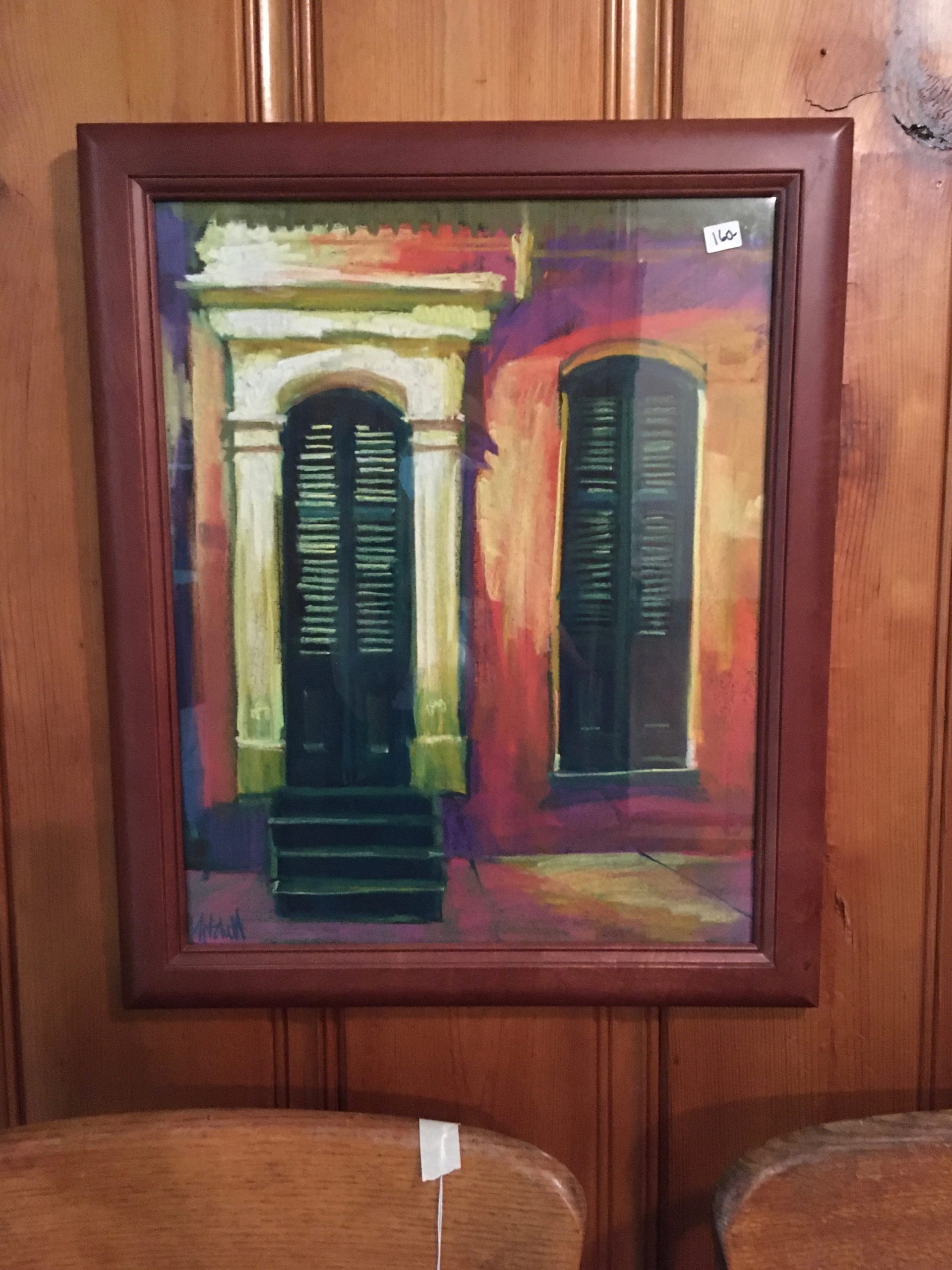 I bought only two things, "a bargain," as my father used to say, "at half the price" (everything being half price on the second day). I brought home a Ganesh lunchbox that I adore and a vintage oversized paper copy of How to Draw and Paint Fashions, originally priced at $1. I went both days and each time left with a little spring in my step. I spent $7 total on two excursions that were full of fun and wonderment.
There sure are a lot of opportunities for exuberance and inspiration in the world. I like to take advantage of them whenever I can. What about you? What lights you up? I hope there are many things.
"Life is just a lot of everyday adventures." ― Carol Ryrie Brink, Caddie Woodlawn
If you're looking for my cards or art, you'll find all of that on my website. And if you enjoy these letters, feel free to forward this one to anyone you think might like it. Finally, you'll find past letters and poems here.
Thanks for listening,
Kay
P.S. MerryThoughts is the name of my first book, out of print at the moment. The word is a British one, referring both to a wishbone and to the ritual of breaking the wishbone with the intention of either having a wish granted or being the one who marries first, thus the "merry thoughts."