I recently went on a big trip. I'd been longing to see my son, Peter, whom I had not seen for over two years. He and his brother live in New York. Cole was home for two nice long stretches of time in the past year but Peter, no. I talked about it with various people and almost every one of them encouraged me to go. Do it. Go. I made half-hearted plans to fly out, and even booked a flight. But I still felt reluctant. You hear all kinds of stories about air travel these days. And I hate to leave Miles, who is so much my dog that he gets a stomach ache whenever I am away overnight. So I cancelled my flight.
Peter and his girlfriend bought a house a little ways upstate near the Hudson River last April, and I really wanted to see it. They have woods and their land borders the Appalachian Trail. They have lots of room. He suggested that my youngest son and I put the dogs in the car and drive out. Hmm. Miles hates riding in the car. Rufus has all those health issues. Peter and Anne have cats and my dogs treat cats as squirrels–something to chase. It seemed too difficult.
Then, serendipitously and independently, a friend and I both heard about Cuyahoga Valley National Park, situated in Ohio, roughly between Cleveland and Akron. We both love the idea of visiting all of the National Parks. And I had learned that an old friend of mine lives inside the park! Jan asked if I would be interested in taking a 4-day weekend to go there. But I had noticed that this park is situated a little more than halfway between here and New York. Hmm. I mentioned this. Jan thought we could drive to Ohio, explore the park, and she could fly back to St. Louis from Cleveland. I figured I could drive the rest of the way to New York.
That was the first nudge that really took. How could I say no to that? It seemed like a very good plan. And then Peter offered to drive back to St. Louis with me! The final nudge that was just too good to pass up. This trip was meant to be. And so it became a real thing.
I steeled myself against anxiety about leaving my dogs.
Jan and I made plans for our drive and the park. I got in touch with my old friend. And off we went. I bought tickets for Peter and I to go to the Frank Lloyd Wright house, Fallingwater, in Pennsylvania, on our drive back to Missouri. Peter took the whole week off work and Cole, miraculously, was able to work from home for a good part of my visit. Everything fell right into place.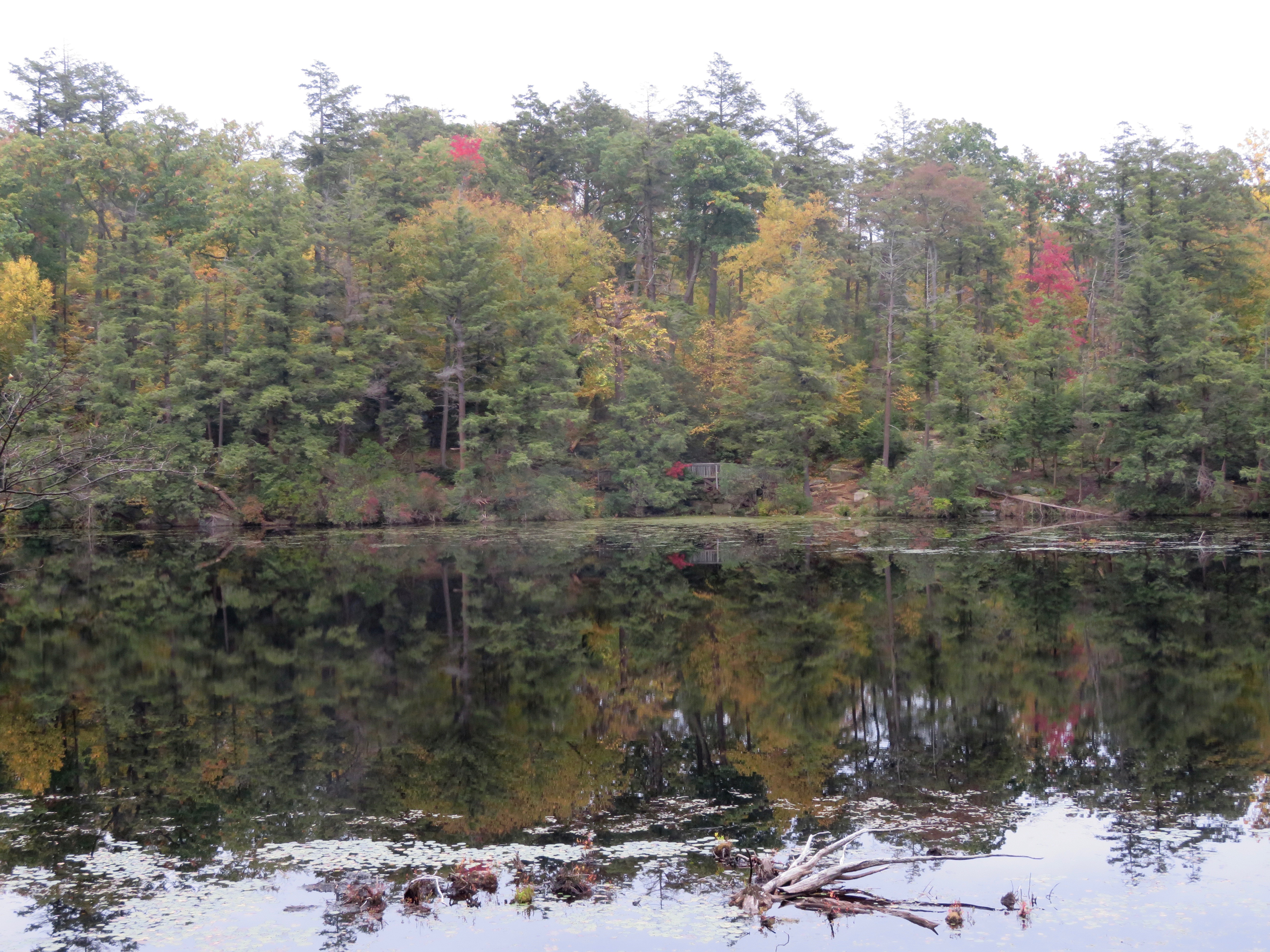 It was a marvelous trip, filled with fun, laughter, oh so much natural beauty, hiking, walking, art, and best of all, freewheeling, easy time with my boys. It absolutely filled up my heart. This was a trip that went beyond any expectations that I had. I could not have conjured a more wondrous time.
So, these nudges. I think it's important to pay attention to them but also to pick and choose. All those other ones, from well-meaning friends and family just did not feel quite right to me. I went with my gut by saying no to those others but YES! when it finally did feel just right. And the result tells the story. I am practically full up to bursting with love and lightness.
So I'm saying, especially these days (we all keep saying phrases like this), don't let anyone else's grit and spunk push you to do something you're not ready for. We're all wild and adventurous in our own (sometimes quiet) ways. Sure, look at the options for whatever it is you long to do–but let yourself see how each one of those options feels inside of you. And then maybe act on those little nudges that feel just right, the ones that truly do speak to your heart.
"May your choices reflect your hopes, not your fears." – Nelson Mandela
"Who can really say how decisions are made, how emotions change, how ideas arise? We talk about inspiration; about a bolt of lightning from a clear sky, but perhaps everything is just as simple and just as infinitely complex as the processes that make a particular leaf fall at a particular moment. That point has been reached, that's all. It has to happen, and it does happen." – John Ajvide Lindqvist, Harbor
If you're looking for my cards or art, you'll find all of that on my website. And if you enjoy these letters, feel free to forward this one to anyone you think might like it. Finally, you'll find past letters and poems here.
Thanks for listening,
Kay
P.S. MerryThoughts is the name of my first book, out of print at the moment. The word is a British one, referring both to a wishbone and to the ritual of breaking the wishbone with the intention of either having a wish granted or being the one who marries first, thus the "merry thoughts."