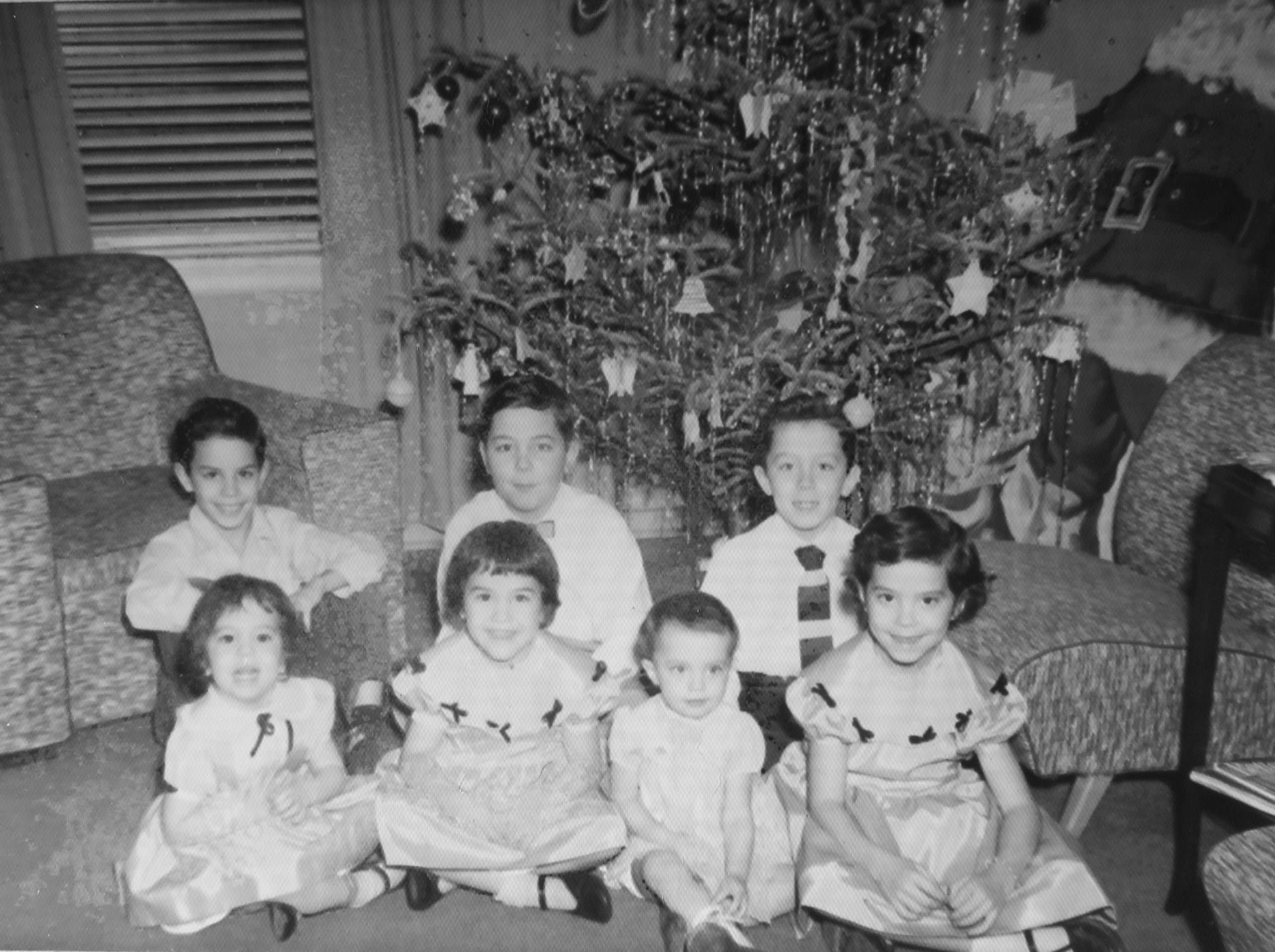 Although winter, the cold, and all the clothes one has to wear try my patience, I do love Christmas. It was, of course, more fun both when I was a child and when my boys were little. I have lots of fond Christmas memories. But even now I love the whole idea of it, the lights, the special meals, the carols, the gift buying, the secrets, the festive atmosphere, and of course, the cookies.
When we were kids, on Christmas Eve our aunt and grandmother would come over and we would be sent upstairs while Santa arrived. My dad would do the "HoHoHo-ing" at some point and soon after, we were called downstairs again. Wow! Presents were piled under the tree. I'm not sure why, but at least as far as I knew, none of us ever wondered how my parents knew just when Santa would arrive or why Santa would have been okay with them being there when he brought the gifts. We just enjoyed it as it was. And one year, my sister Pat claimed she had seen a sleigh and reindeer in the sky!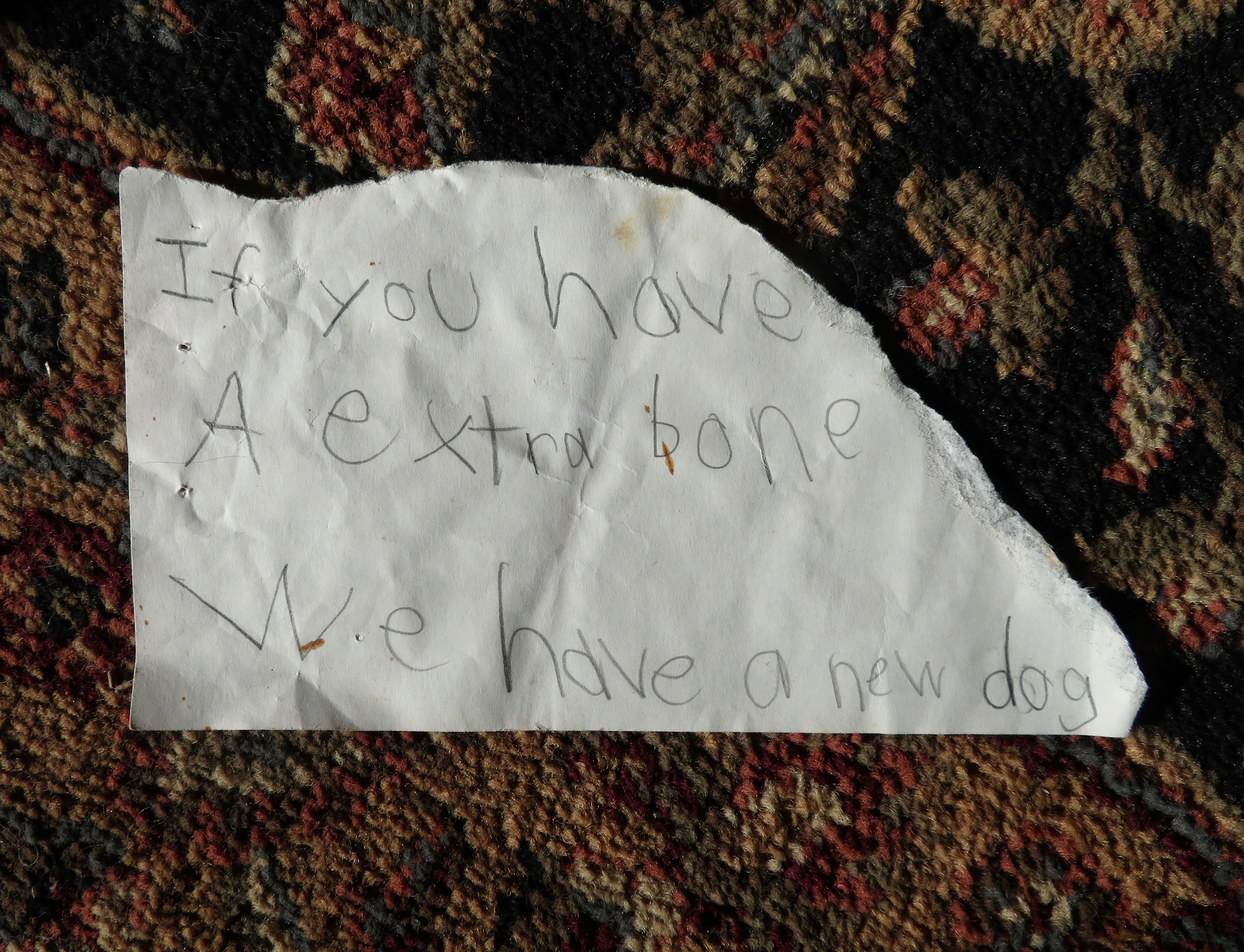 When Cole was still pretty little, he asked for and received a dog for his birthday. I still have the note he left for Santa that year, and I get it out every Christmas so I can hold it and smile over it. "If you have a extra bone we have a new dog." So modest and so sweet. Peter, on the other hand, suspecting that I was Santa, left a large onion on a plate on the mantel, rather than cookies. Santa left him a note that said, "Dear Peter, Thanks for the onion, but onions give me gas and Mrs. Claus hates that." I ended up making that into a Christmas card. He also rigged up some bells on his stocking one year, with the idea of catching Santa in the act.

We have always had dogs, but Miles is the one who has loved Christmas the most. He has a good nose, so he found the stockings filled with treats quite intriguing. But more fun, since he loves tearing paper, he likes to help open our gifts. It brings a bit of zaniness to Christmas and a rather jolly mess to the living room floor.
Now our Christmases are usually cozy–just me, Oliver, Miles and Rufus–but we have a good time. (Miles gets to open the gifts.) Once in awhile, Peter or Cole will come in from NYC, and once in a great while, both! But not often. And one day, I'd like to be in NYC at Christmas time. But it's a difficult time to travel and now even moreso. I think we all wonder, will it ever be as we all remember? I like to think it might be even better.

I have an adorable six-year-old piano student from Greece. His mother told me he was ready for Christmas, as he had written his letter to Santa. I asked him in an animated voice, "Are you going to go see Santa?" and he said solemnly, "No. Coronavirus." Sigh. I hope Santa brings him everything he asked for. And I hope you get everything you're wanting this year, whatever that may be.
"One can never have enough socks," said Dumbledore. "Another Christmas has come and gone and I didn't get a single pair. People will insist on giving me books." ― J.K. Rowling, Harry Potter and the Sorcerer's Stone
"One of the most glorious messes in the world is the mess created in the living room on Christmas day. Don't clean it up too quickly." ― Andy Rooney
If you're looking for my cards or art, you'll find all of that on my website. And if you enjoy these letters, feel free to forward this one to anyone you think might like it. And if someone forwarded this one to you, you can sign up here to receive the letters right in your Inbox. Finally, you'll find past letters and poems here.
Thanks for listening,
Kay
P.S. MerryThoughts is the name of my first book, out of print at the moment. The word is a British one, referring both to a wishbone and to the ritual of breaking the wishbone with the intention of either having a wish granted or being the one who marries first, thus the "merry thoughts."