I met one of my longtime art and book heroes last week at my favorite book store in the world.
When my son, Peter, was maybe ten years old, a good friend of mine gave him the book, Hey Willy, See the Pyramids by Maira Kalman. We all loved the zany little book with her crazy illustrations. My favorite part of the book goes like this:
"What is nothing?" I ask.
"Nothing is when you are given a very small portion of ice cream by an adult, and you look at the plate and at the adult and you ask for more and the adult says you have a huge portion and you say 'That's it? That's nothing.'
"And that is nothing," says Lulu.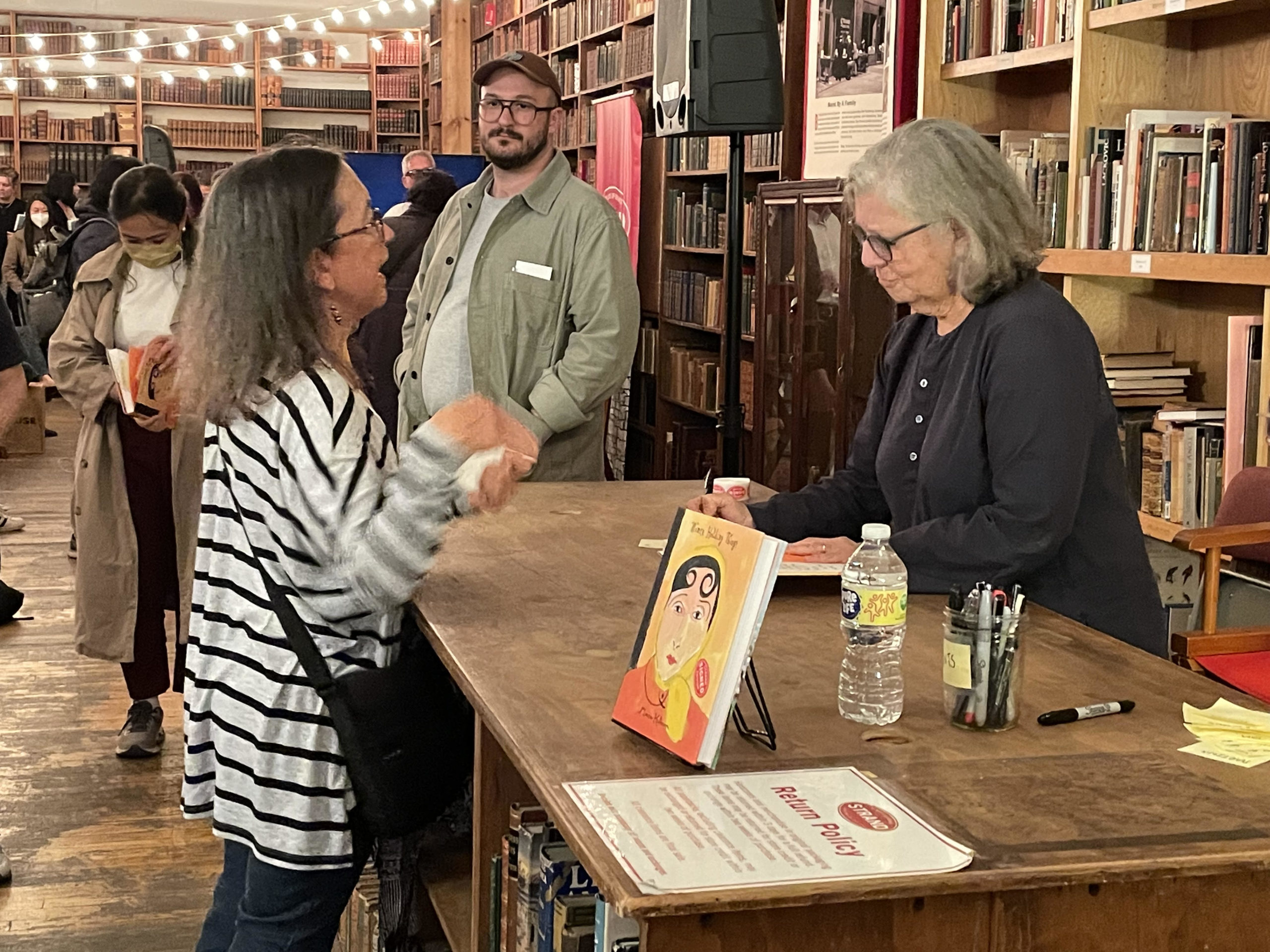 That book was the beginning of a long love affair with all things Maira Kalman. I bought her children's books for my sons. I bought her adult books–often a mix of humor, beauty, and sadness–for myself. My son, Cole, has gifted me with several of her books, some signed, as well as a Kate Spade purse decorated with Maira's drawing. Most recently, he orchestrated a gift from my three boys of her "cosiette," a hand embroidered piece of linen from her drawings, set into a tray. I have seen her exhibits at the Jewish Museum in San Francisco, the Jewish Museum in New York City, and galleries in NYC.

But I had managed to miss her appearances in NYC, including, on one visit, a talk at the NY Public Library just one hour after my plane left for home. I once emailed her, to see if she'd be speaking anywhere and she very kindly replied no, not this time.
The Strand book store, in New York City's East Village, boasts 18 miles of books on its many shelves. Included in the 18 miles is the rare book room on the third floor, where author talks are held. Maira was scheduled to speak about her newest book, Women Holding Things, as well as showing the paintings from it at a gallery in Chelsea, all during my visit! Oh joy! Peter got tickets to the talk, including a copy of the book, and we heard her speak from front row center seats.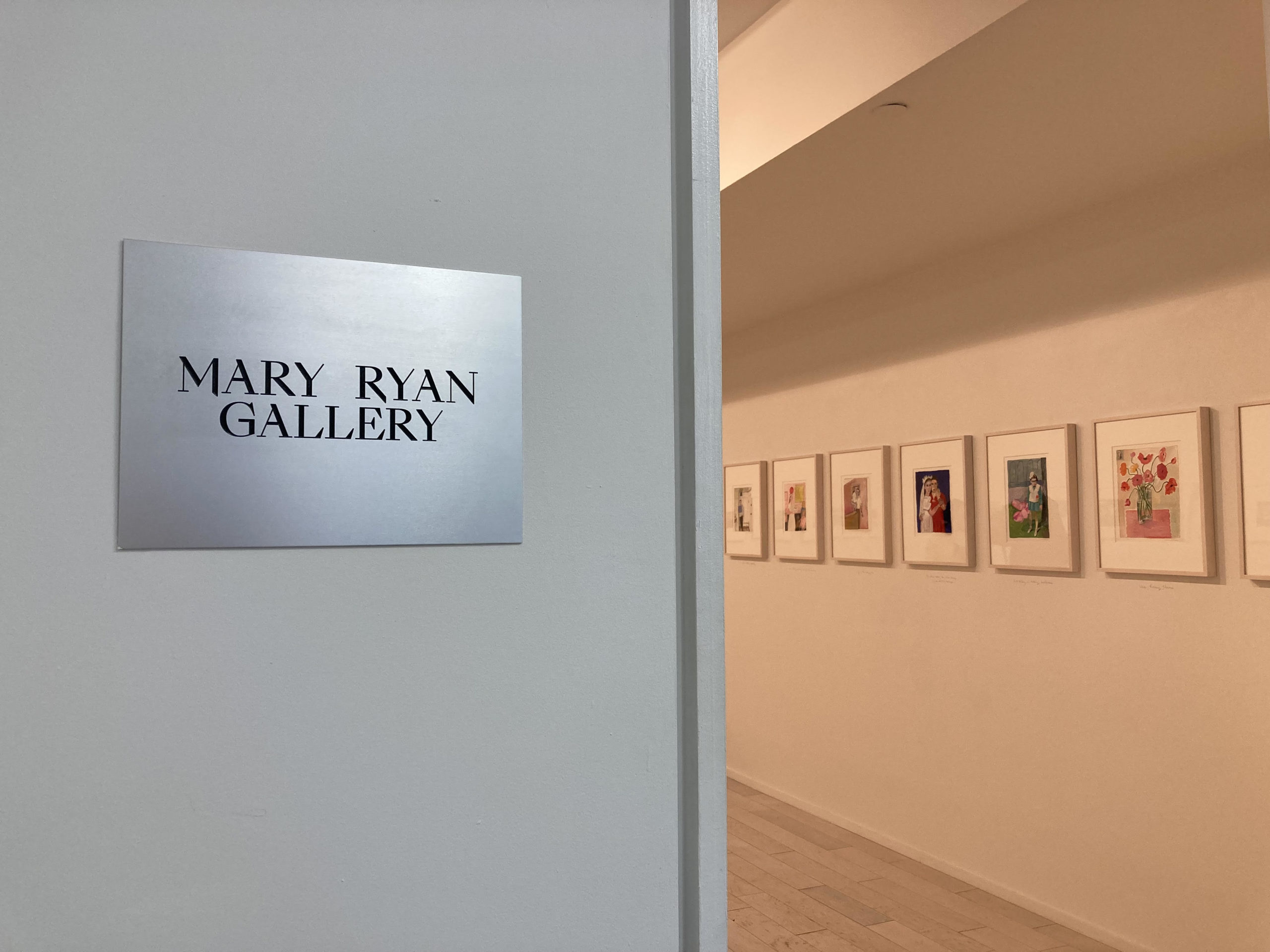 They say you should never meet your heroes. But I was not disappointed. We hold the same views on many things. She "falls in love with 50 things" every day. She loves walking. Values her time alone. Loves cake. She does not read the news (I do read a little)–only the obits. But she knows what goes on in the world and she takes an active role in doing good, selling limited edition booklets for $100 apiece to raise money for causes that I, too, hold dear.

As she signed my copy of her book, I yammered on, telling her all the things, about Hey Willy and all the books, about my boys, the Kate Spade purse, the cosiette, her kind email, all in a big rush, knowing there were others waiting and I was lucky, so lucky to be there with my sons, both of them snapping photos. She was great and lovely and very kind.
The next day we went to see the gallery show of "Women Holding Things." Another lovely piece of the Maira Kalman adventure. That trip filled me up in so many ways. This was one of them. Finally I'd met one of my heroes.
"My dream is to walk around the world. A smallish backpack, all essentials neatly in place. A camera. A notebook. A traveling paint set. A hat. Good shoes. A nice pleated (green?) skirt for the occasional seaside hotel afternoon dance."― Maira Kalman, The Principles of Uncertainty
"Everyone I know is looking for solace, hope and a tasty snack."― Maira Kalman
"On the wall was a dress that I embroidered. It said "Ich Habe Genug." Which is a Bach Cantata. Which I once thought meant "I've had it, I can't take anymore, give me a break." But I was wrong. It means "I have enough." And that is utterly true. I happen to be alive. End of discussion. But I will go out and buy a hat." ― Maira Kalman, The Principles of Uncertainty
If you're looking for my cards or art, you'll find all of that on my website. If you enjoy these letters, feel free to forward this one to anyone you think might like it. And if someone forwarded this one to you, you can sign up here to receive the letters right in your Inbox. Finally, you'll find past letters and poems here.
Thanks for listening,
Kay
P.S. MerryThoughts is the name of my first book, out of print at the moment. The word is a British one, referring both to a wishbone and to the ritual of breaking the wishbone with the intention of either having a wish granted or being the one who marries first, thus the "merry thoughts."