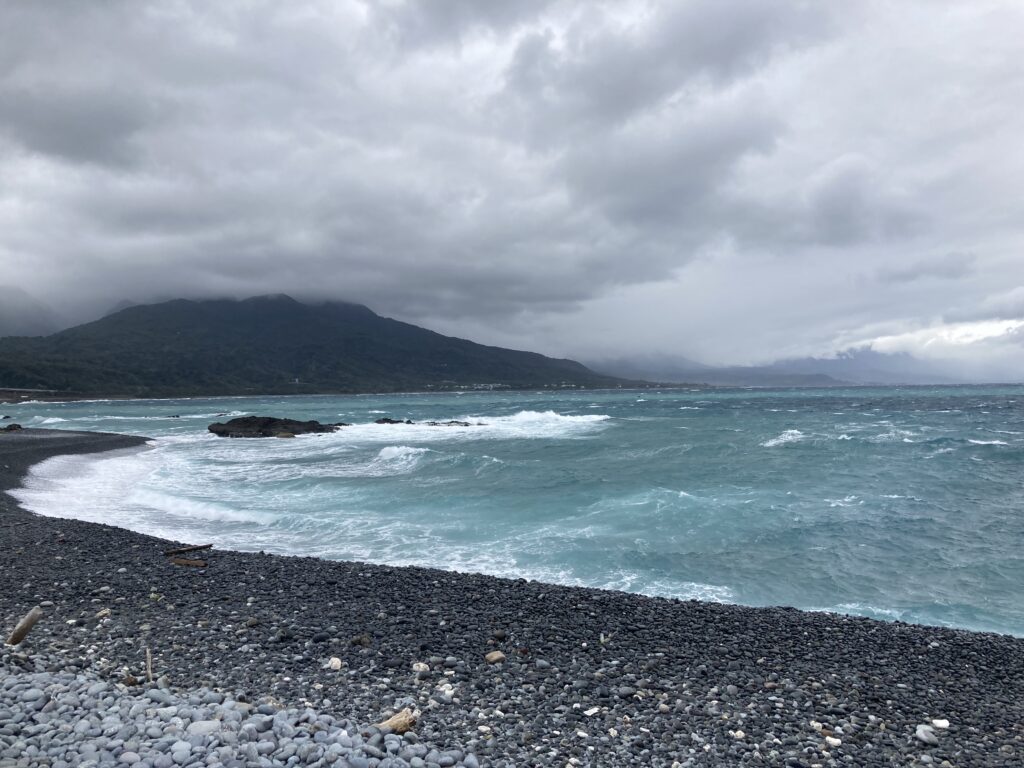 Why in the world did a Portugese ship travel past Taiwan, back in the 15th century??
The ship captain's log aptly named Taiwan "Ilha Formosa," meaning "Beautiful Isle." Well, it certainly is a gorgeous land. Wow. On my recent trip there, I was stunned by the many, many ways in which Taiwan is so very beautiful. Long, pristine pebble beaches line the East shore, the water of which can be every bit as bright a turquoise as the Caribbean or as dark and wild as the Pacific gets. And somehow, the clouds above were especially voluptuous, making combined vistas that were just amazing. How many hours could I spend there, just looking? To borrow from Joni Mitchell, "I could drink a case of you, darling, and I would still be on my feet."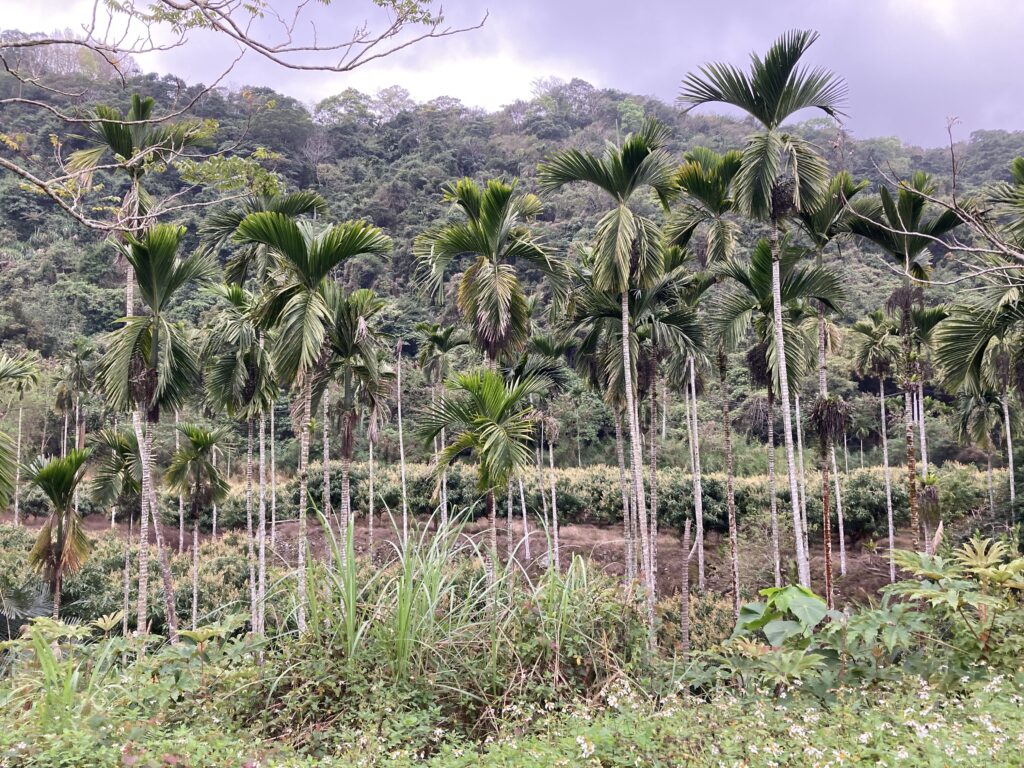 Oh, then there are the forests and woodlands, the trees, so very many trees, almost all of which you don't see here in the Midwest. Around 58% of Taiwan is covered with trees or bamboo! Palm trees with coconuts, acacias, camphor, red and yellow cypress. I especially loved the remarkable banyan trees that conjured up a song my mother taught us kids, "We'll Build a Bungalow," which I then sang over and over again as I rode my bike along those Taiwan roads. Okay, it now appears that the bungalow is "underneath a bamboo tree," rather than banyan, as I thought, but I had fun singing, anyway. Besides, banyan makes more sense. Bamboo is not even a tree! I like my version better.
Then there's all the tropical jungle vegetation, almost all of which I could not name. Bananas! Bananas grow right by the road, along with other fruits and all sorts of things I did not recognize. I saw orchids growing on the trunks of trees! We passed tea and coffee plantations on our bikes, and so many shimmering rice paddies. I felt like 90% of what I saw on that trip was new to me and that, alone, was enchanting. It was so green there that I've been guilty of begrudging our trees their bareness, since I'm home. Soon, I tell myself, soon . . .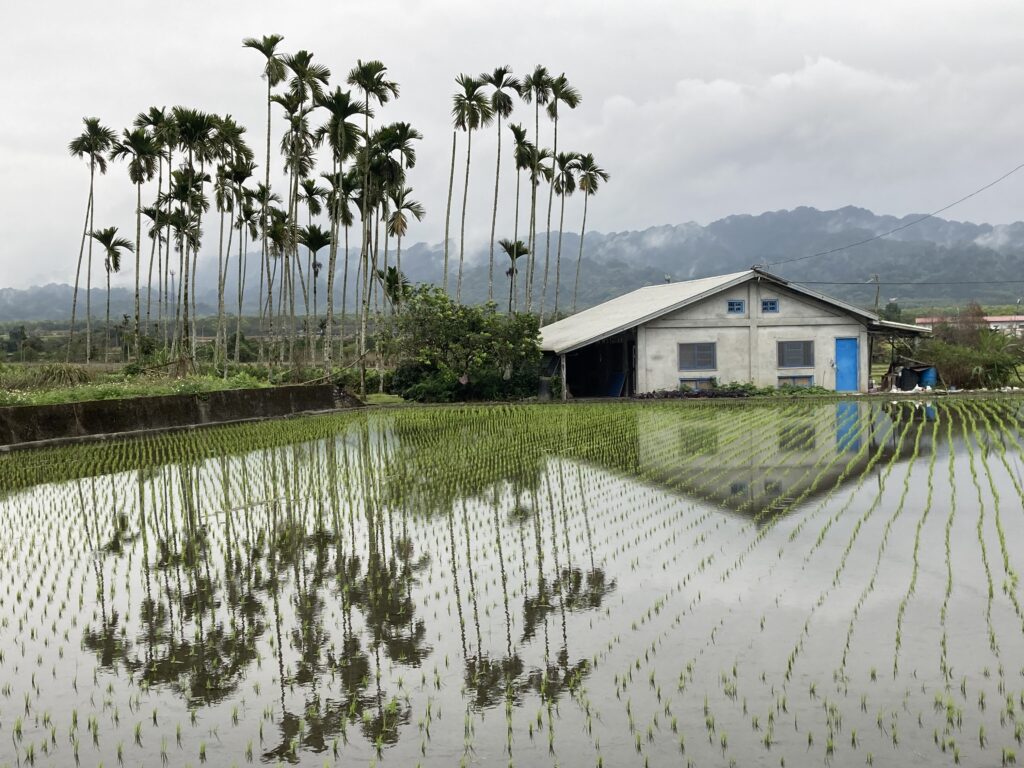 Taiwan is nearly two thirds mountains. Mountains, mostly covered with trees, rise up next to or not far from the beaches, clouds resting contentedly on them much of the time we were there.
I had no idea that Taiwan was such a beautiful, beautiful country. Is it me or do we just not hear that much about its natural beauty? We hardly saw any other Westerners on our entire trip. Why are we not beckoned to visit lovely Taiwan, I wonder? Everyone and their monkey goes to Thailand and Vietnam, it seems. Taiwan doesn't seem to be a destination for us Westerners. I would love to go back. I'd like to see more of the stunning Taroko Gorge and visit lovely Sun Moon Lake and get all the way down to the southern tip and see what's there. So much gorgeousness in such a small place!
I have looked for quotes about Taiwan and almost everything I've found is political, rather than about the beauty of the place. Astounding.
"The world is simple and beautiful." – Female Taiwanese Pew Research Center respondent, age 72 (asked what makes life meaningful)
"This wasn't a strange place; it was a new one." ― Paolo Coehlo
"Blessed are the curious, for they shall have adventures." ― Lovelle Drachman
If you're looking for my cards or art, you'll find all of that on my website. If you enjoy these letters, feel free to forward this one to anyone you think might like it. And if someone forwarded this one to you, you can sign up here to receive the letters right in your Inbox. Finally, you'll find past letters and poems here.
Thanks for listening,
Kay
P.S. MerryThoughts is the name of my first book, out of print at the moment. The word is a British one, referring both to a wishbone and to the ritual of breaking the wishbone with the intention of either having a wish granted or being the one who marries first, thus the "merry thoughts."