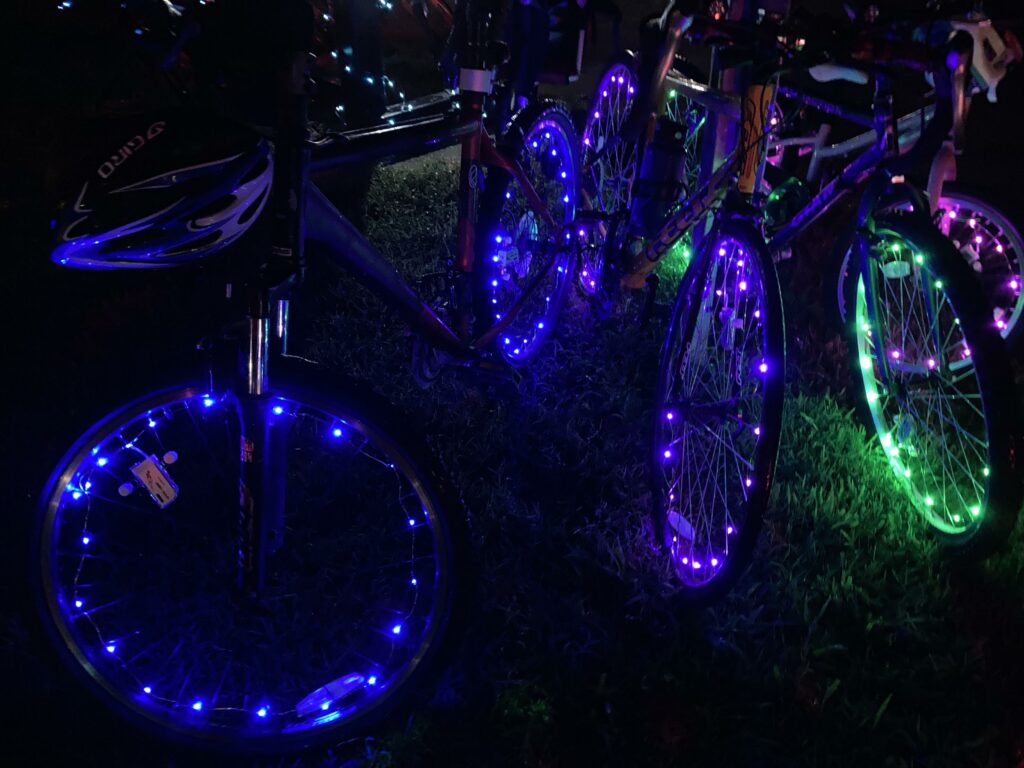 I'm writing this on my 72nd birthday. I think I've said so before, but I always like to check my birthday number in terms of the mathematical principles of abundant, deficient, perfect, and prime.
Prime numbers, as everyone knows, cannot be divided by anything else. Perfect numbers' divisors add up exactly to the number itself, and that is very cool. Deficient numbers are those whose factors (divisors) add up to less than the number itself, whereas abundant numbers' factors add up to more than the number itself.
Well, 72 is incredibly abundant. Yeehah!! I take this as a sign that my 72nd year will be filled with abundance. And I am here to say that it has already begun.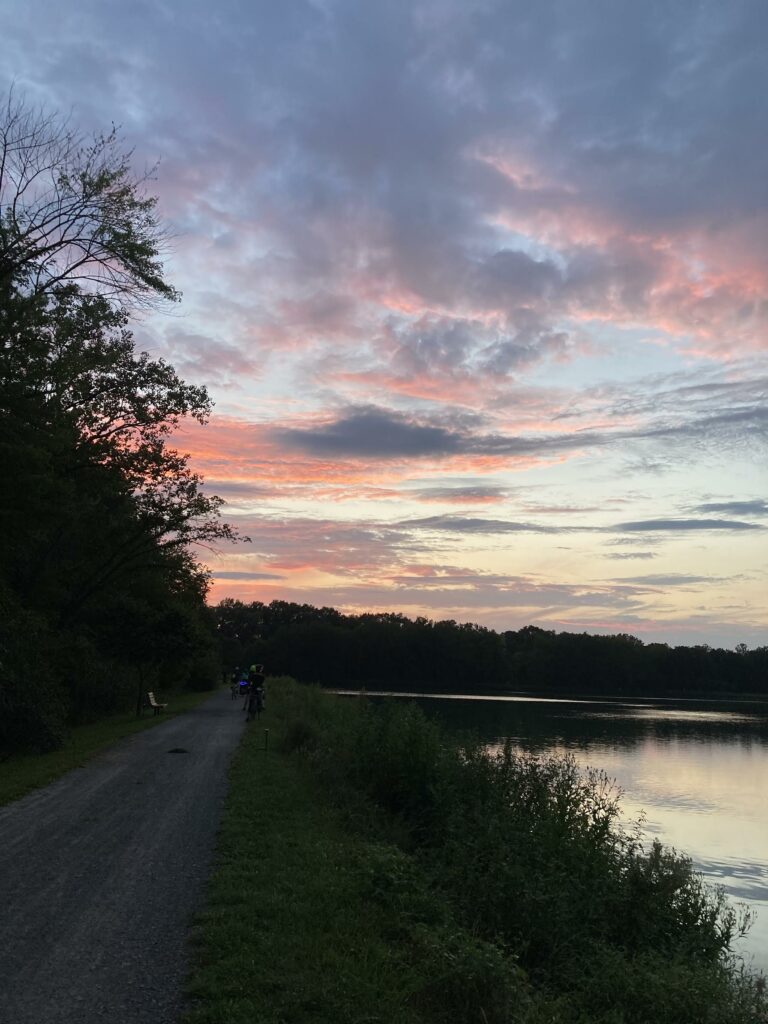 Last night I went on a night bike ride sponsored by our Parks & Rec Department, called Kaleidospoke. It's all about lights and color (much like the Lantern Festival in Taiwan). I went with three wonderful friends who had gifted me with my ticket to the event, including a "glow package" and s'mores by the lake. The ride is on a gravel trail with many bridges over the creek. The bridges are all lit up and there are lots of other lights poking out of the ground or otherwise lining the trail. Magical!
And then of course, starting out at 7:00 p.m., in the gathering light, sunset is happening over the lake. Ahh. So lovely. We, ourselves, were lit up, as were our bikes. We had things stuck on top of our helmets or dangling off of us. Lots of people had lit up their bike wheels. It was super fun, but especially so because of the company I was in. Already I'm feeling the abundance.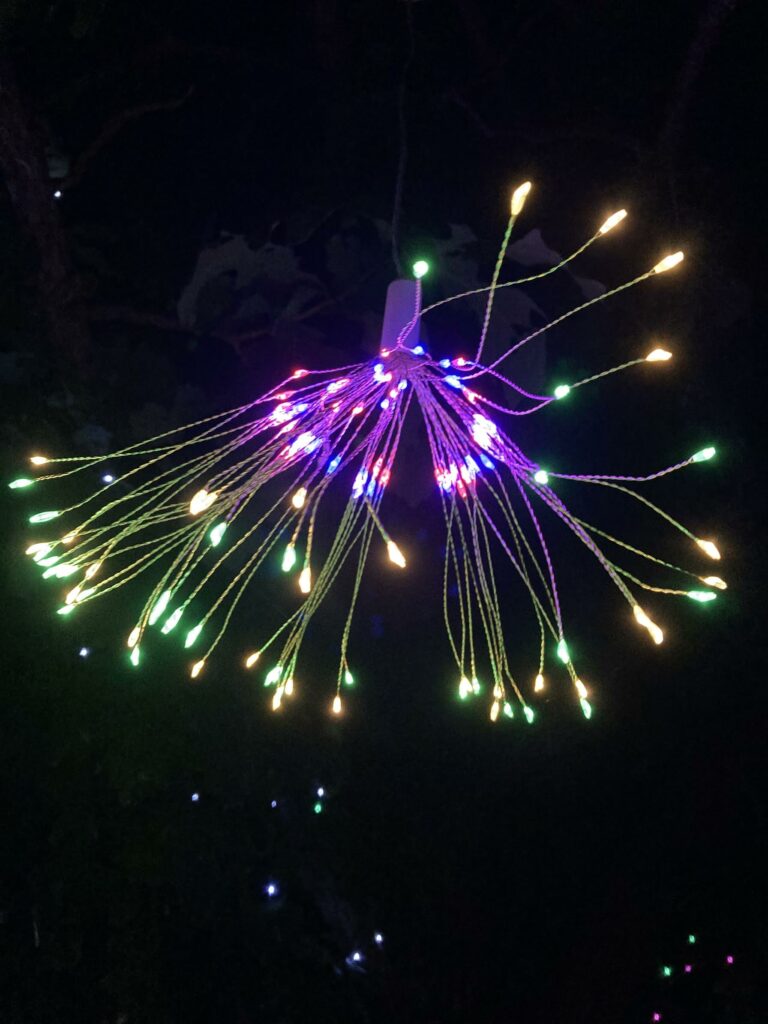 I won twice in a row at Mah Jongg on Friday, too! And on Wednesday when I returned, after years away to play pickleball at the gym, I won game after game. Strangers were happy to meet me. I learned the names of 15 new people! One (Chuck) said, "Come back. We want you here." I told my son, "I'm Somebody there!" Abundance.
So the abundance is all happening.
Just to say, whenever I hit a year whose number is deficient, I ignore that, and I think you should, too. But the other three–woohoo!! And since it's my birthday and I'm having a party, I'll have to keep this one short.
I hope your year forward is also ABUNDANT!
"Keep your best wishes close to your heart and watch what happens"― Tony DeLiso, Legacy: The Power Within
"Plant seeds of happiness, hope, success, and love; it will all come back to you in abundance. This is the law of nature." ― Steve Maraboli, Unapologetically You
"The truth is that there's more than enough good to go around. There are more than enough creative ideas. There is more than enough power. There is more than enough love. There's more than enough joy. All of this begins to come through a mind that is aware of its own infinite nature. There is enough for everyone. If you believe it, if you can see it, if you act from it, it will show up for you. That's the truth." ― Michael Beckwith
If you're looking for my cards or art, you'll find all of that on my website. If you enjoy these letters, feel free to forward this one to anyone you think might like it. And if someone forwarded this one to you, you can sign up here to receive the letters right in your Inbox. Finally, you'll find past letters and poems here.
Thanks for listening,
Kay
P.S. MerryThoughts is the name of my first book, out of print at the moment. The word is a British one, referring both to a wishbone and to the ritual of breaking the wishbone with the intention of either having a wish granted or being the one who marries first, thus the "merry thoughts."