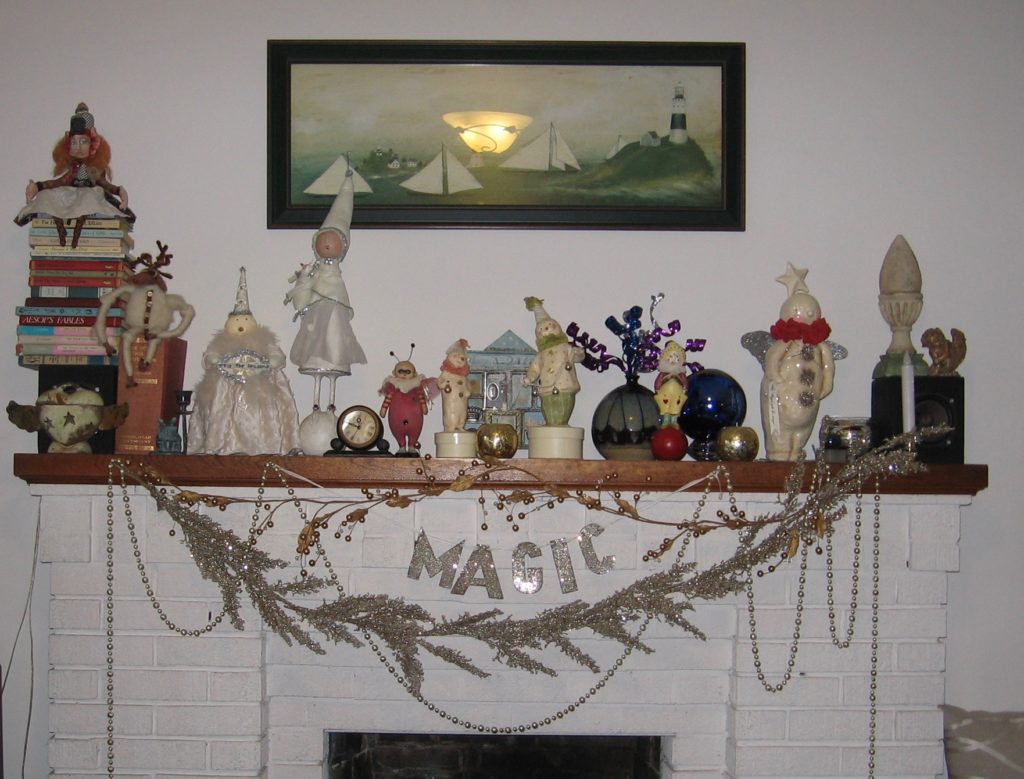 February can be a hard month. But many years back, I started something that made February into one of my favorite months. It was really a reset on my part. Tired of the cold and snow, I thought up a February event that would put some sparkle into the month. Sure, there was Valentine's Day, fine for some. But my event was way better.
I started throwing a big party in February that I called MidWinter's Eve. I aimed to have it fall on the Saturday night smack in the middle of winter, usually the first weekend in February. Oh, it was grand! I handmade the invitations and they were fabulous. I would have to say that it was kind of a big deal to receive one of those, if I do say so myself.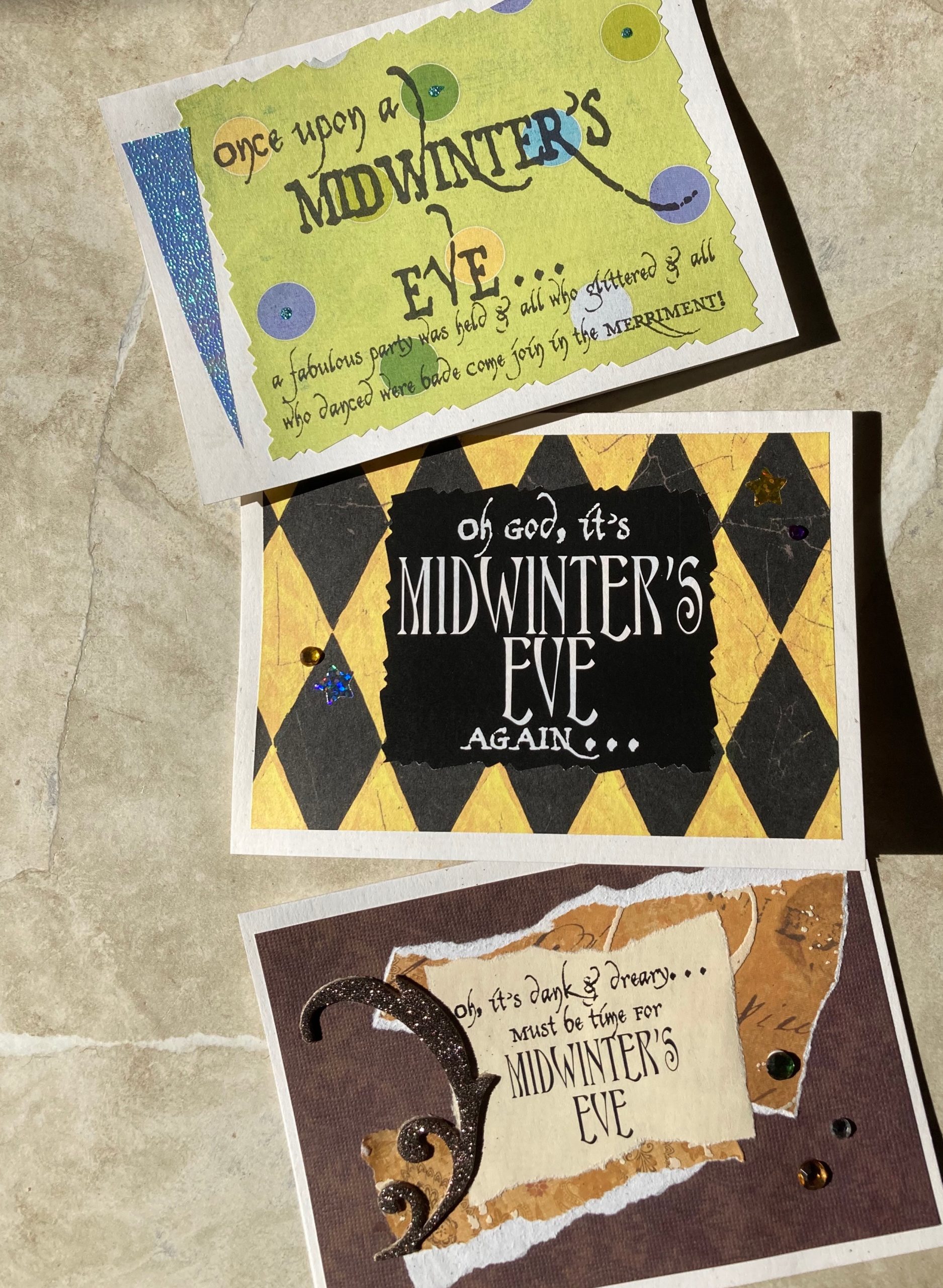 Since I love gowns and tuxedos and my two best friends did, too, I requested "formal/festive attire." The three of us were all over it. Rex always wore a tux or a formal Scottish kilt, the whole nine yards. Pam and I searched for gowns, capes (Pam), shoes, jewelry, and accoutrements. Even the dogs wore fancy sparkly things around their necks. But many guests balked. Thus, the invitations' requests for formal attire grew either more urgent or more accepting of my guests' moribund reluctance to dress up, as follows.
"FORMAL ATTIRE REQUESTED, i.e., any & every fabulous finery, fine frippery, dashing haberdashery, adornment & accoutrement most warmly applauded, lauded, adored & rewarded."
"FORMAL ATTIRE MOST PASSIONATELY DESIRED. However, if you are loath to dress formally, i.e., smashing gown, gloves, tiara, top hat & tails, bow tie, etc., so be it. I do what I can to illuminate an otherwise dreary winter. Sadly, the loss will be your own. Please do come anyway. (You know who you are.)"
"For God's sake, would it kill you to pull out the old top hat & tails, do up your hair, slip on that long, luscious gown, toss a bit of sparkle around your neck, or otherwise fabulously dress up the night? You know you want to."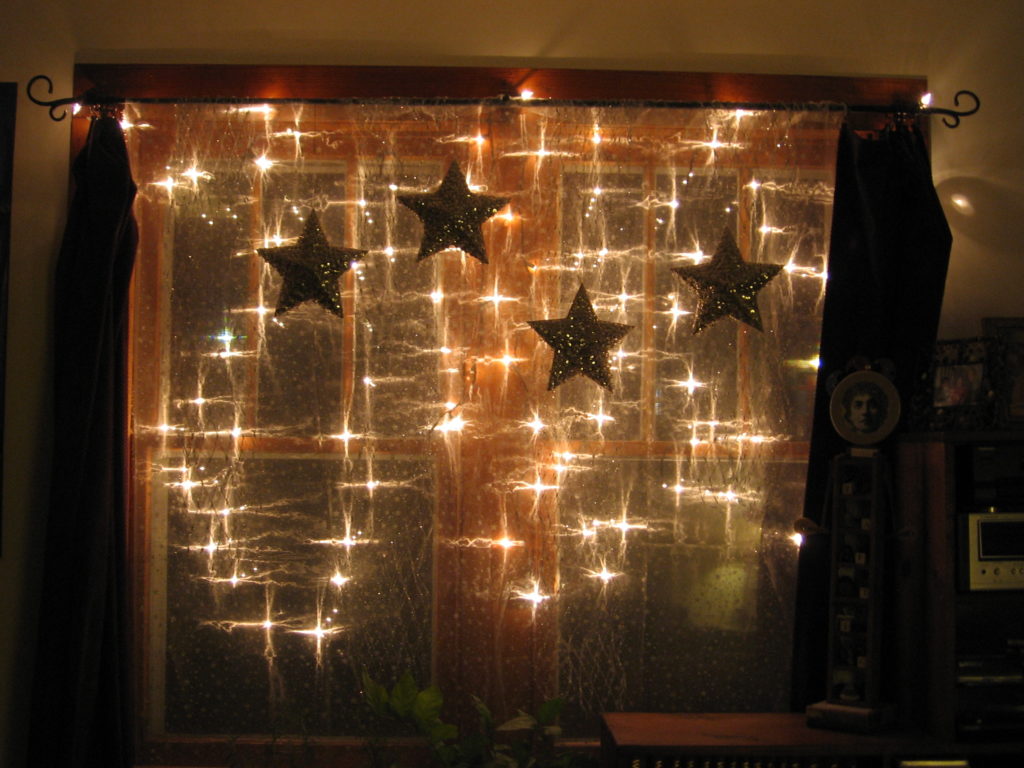 I served fancy hors d'oeuvres, cheap caviar, and champagne punch with a decorative ice ring of berries and mint leaves in the bowl. I decorated the house with lots of sparkle and tiny lights. I made party "favors" which were small envelopes containing shiny confetti, an inspiring quote (no surprise there, eh?), and two self-stick labels the guests could wear. One of the labels would say things like "Trickster" or "Mad Hatter" or "Tart" or "Old Soul," and the other, "Mentally correcting your grammar" or "Will talk your arm off " or "Placing my thoughts elsewhere" or "Going to Hell in a handbasket." Etc. Words (of course) constituted the promised mad frivolity.

That party gave me such a creative outlet, so much fun, and something to look forward to in the dead of winter, though I actually planned for it all year round. I always had an eye out for some glitzy, glimmery, shimmery something that would add to the greatness.

Now that Pam and Rex, my two partners in crime, are gone, the party's lost some of its glittery appeal. Who, now, would enjoy every last bit of the planning, listen to my latest ideas for favors, go shopping for accoutrements? Who would rummage through my underwear drawer during the party and come downstairs with my bra or panties on their head? Who??

And though I haven't had the party for years, I do manage to feel a little bit cheated of the possibility of having it–because of stupid old dumb old ugly old Covid. Shouldn't it be my choice? But maybe next year . . . maybe next February I can bring back my fabulous party. You never know. But please! Formal attire requested!
If you're looking for my cards or art, you'll find all of that on my website. And if you enjoy these letters, feel free to forward this one to anyone you think might like it. And if someone forwarded this one to you, you can sign up here to receive the letters right in your Inbox. Finally, you'll find past letters and poems here.

Thanks for listening,
Kay

P.S. MerryThoughts is the name of my first book, out of print at the moment. The word is a British one, referring both to a wishbone and to the ritual of breaking the wishbone with the intention of either having a wish granted or being the one who marries first, thus the "merry thoughts."