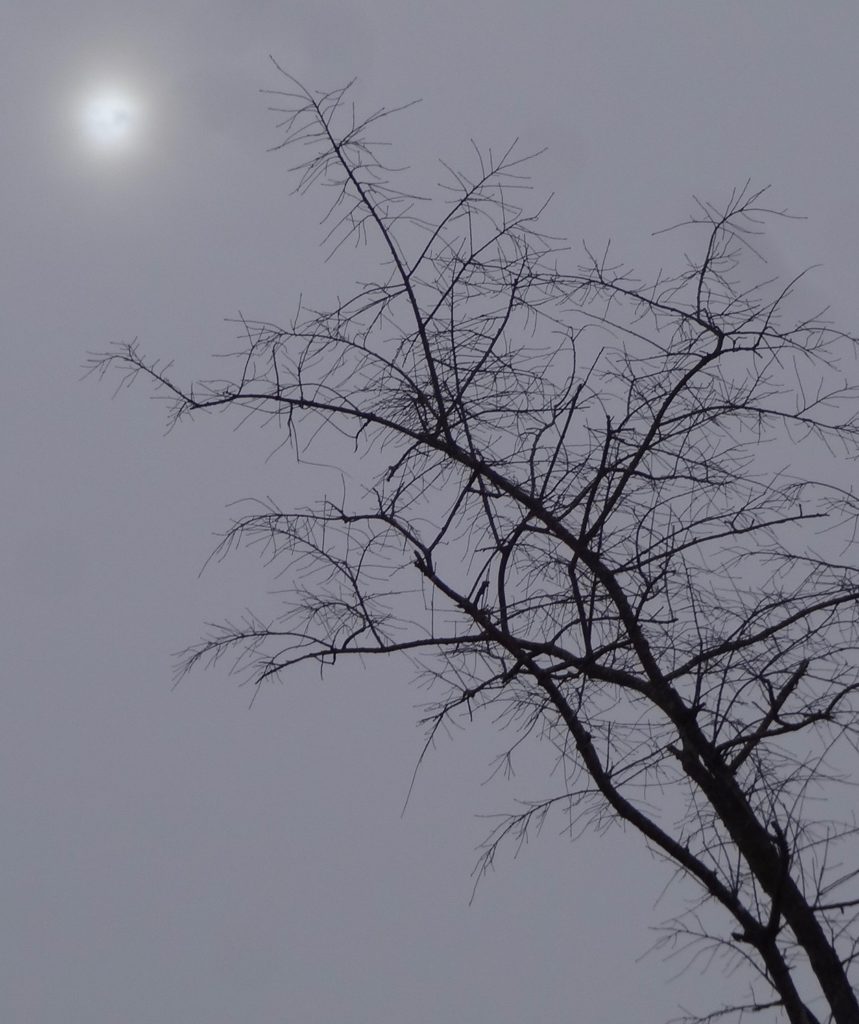 According to Dictionary.com, "The Dutch compound word uitwaaien means 'to jog or walk into the wind, especially in the winter, in order to feel invigorated, relieve stress, and boost one's health.'" It is pronounced "out-vahyn." I prefer my incorrect pronunciation, OOT-vahyn, since it's more fun and sounds more like I imagine Dutch to sound. Naturally, upon learning it, this word immediately appealed to my love of language and newfound sense of adventure when it comes to cold weather. Also, I like saying it and so it has become a new addition to my vocabulary.
At this writing, it is 3 degrees, "feels like -11." The sun even looks cold up there, barely showing through the clouds. Calls for an adventure of some sort, I feel, begs for uitwaiien. I took Miles on a longer than usual neighborhood leash walk, but really? That's it? Knowing Miles and his preferences and having learned that pajama days are not what they're cracked up to be, I took care of things at home with a view to going back out for a hike. First, I swept the powdery snow off the front steps, walk, driveway, and car. I filled a dish with warm water and put it on the railing for the birds and squirrels. Yesterday, in anticipation of 2-4" of snow that didn't materialize, I hauled a 40-lb. bag of black oil sunflower seeds home from the hardware store and filled up the birdfeeders.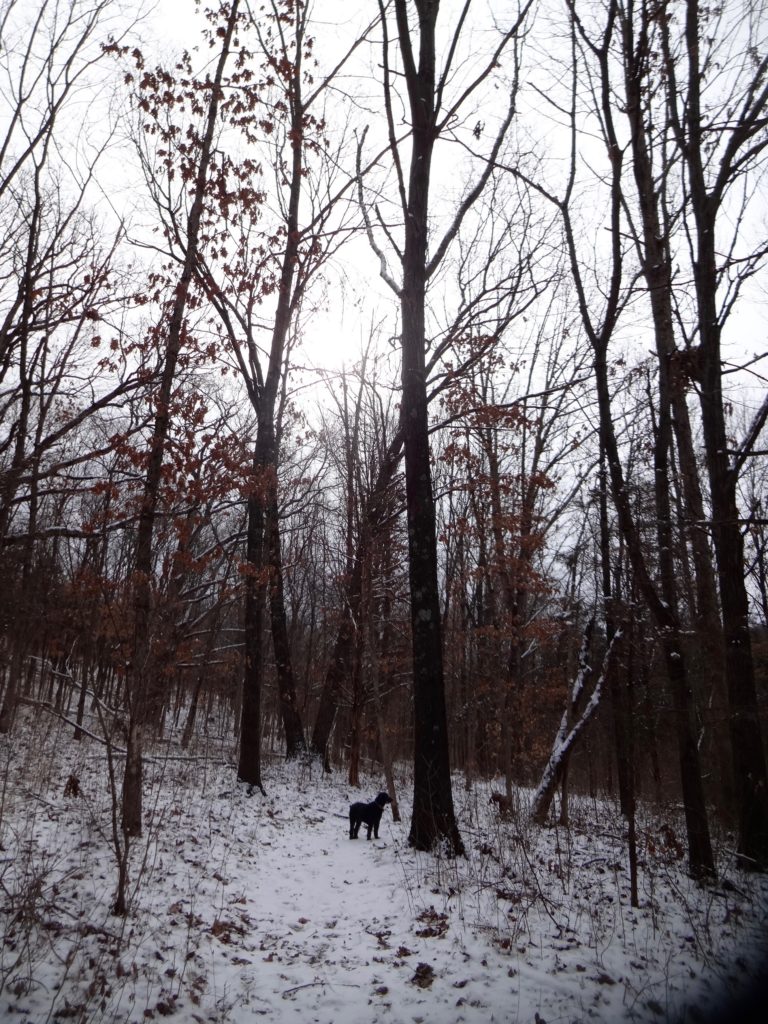 I warmed up my boots, gaiter and mittens on the grate, fed Miles and gave him the anti-inflammatory that his older dog body now requires, and got ready to go back out, handwarmer and treats in my pockets. Exciting! Miles was happy and commented that he was surprised I would go back out in the cold. Oh ye of little faith!
We headed across the bridge with a spring in our step, me practically running to keep up, and even though I was game for a nice little uitwaiien, I imagined it to be a short one. Just a quick, invigorating swing around the meadow. But Miles talked me into going onto the ridge perimeter path and then, even, the ridge trail itself.
I don't suppose you need to know the whole route.
Suffice it to say we had a lovely hike on this very cold day. Of course, "very cold" is relative. An Iowa friend wrote that it was -15 degrees there, actual temperature! That is a very cold day. I might not feel quite as chipper at -15. I don't imagine I could live farther north. My eyelashes had little balls of ice on them as it was. But I did not even crack open the handwarmer and Miles, with his curly coat and high degree of energy, was full of all the happy adjectives you could name, and he probably would even be so at -15. He is a great role model for exuberance, in any weather.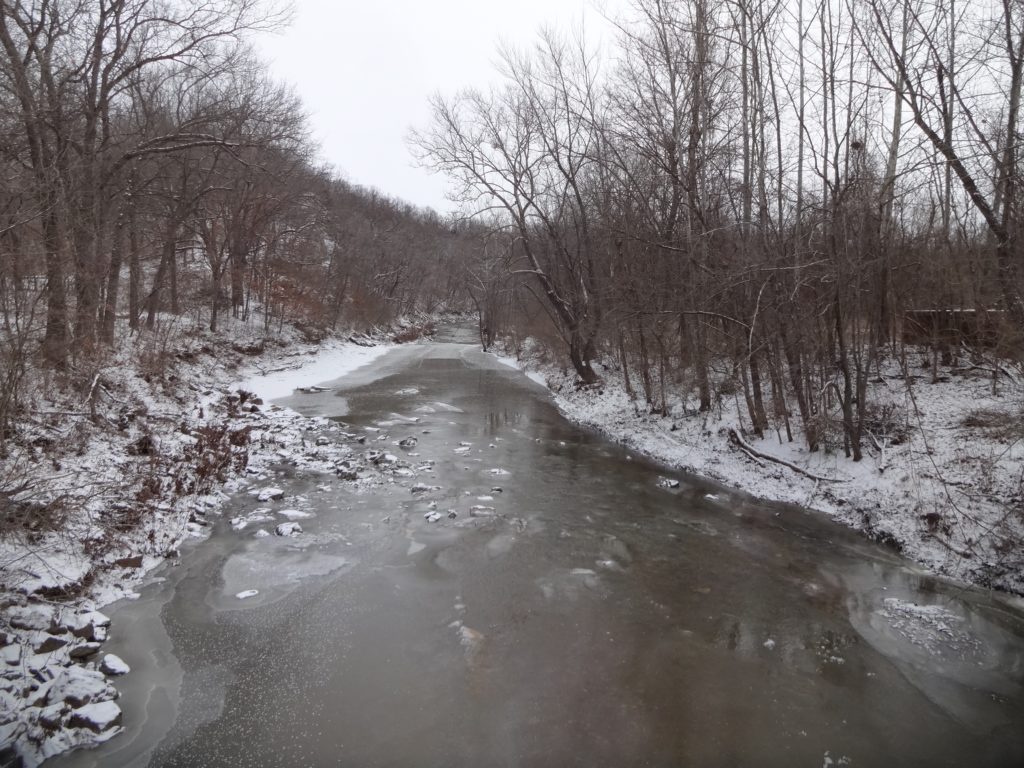 My friend Julie and I have played singles pickleball this winter in 30 degrees. She carries "little bottles of heat" with her and on New Year's Eve we had hot chocolate with a little Bailey's. As she always says, no matter what the weather, "We're outside and we're having fun." The great thing about playing outdoors in winter is that playing hard warms you up, so you can play longer, instead of the other way around.And so, uitwaiien! It's invigorating and fun! I haven't gone in for those cold showers or baths that are supposed to be good for your health but I am open to newfangled ideas and I might try it. Why not?

I hope if you are not already a fan of uitwaiien, that you try it out. We have a really cold week coming up that is providing plenty of opportunity, beckoning us, calling each of us by name, "Come, come! Be a polar bear!"

If you're looking for my cards or art, you'll find all of that on my website. And if you like this letter, you'll find past letters and poems here.

Thanks for listening,
Kay

P.S. MerryThoughts is the name of my first book, out of print at the moment. The word is a British one, referring both to a wishbone and to the ritual of breaking the wishbone with the intention of either having a wish granted or being the one who marries first, thus the "merry thoughts."