I have been collecting heart-shaped rocks for years and years. I really do have too many. Good sense has finally taken hold (oh God, no!) and these days I rarely pick one up. I'm more apt to take a photo of a good one and leave it where it is. I'm old and established, with a very fine collection. Let some young person starting out have them.
Because what a nice hobby! Heart-shaped rocks are free! And in order to find them, one usually has to go on a walk. There's a bonus right there. And more often than not, one has to go to a creek bed or a river or the ocean, a woodsy path or perhaps a rocky cliff–all those wonderful places that are good for the soul.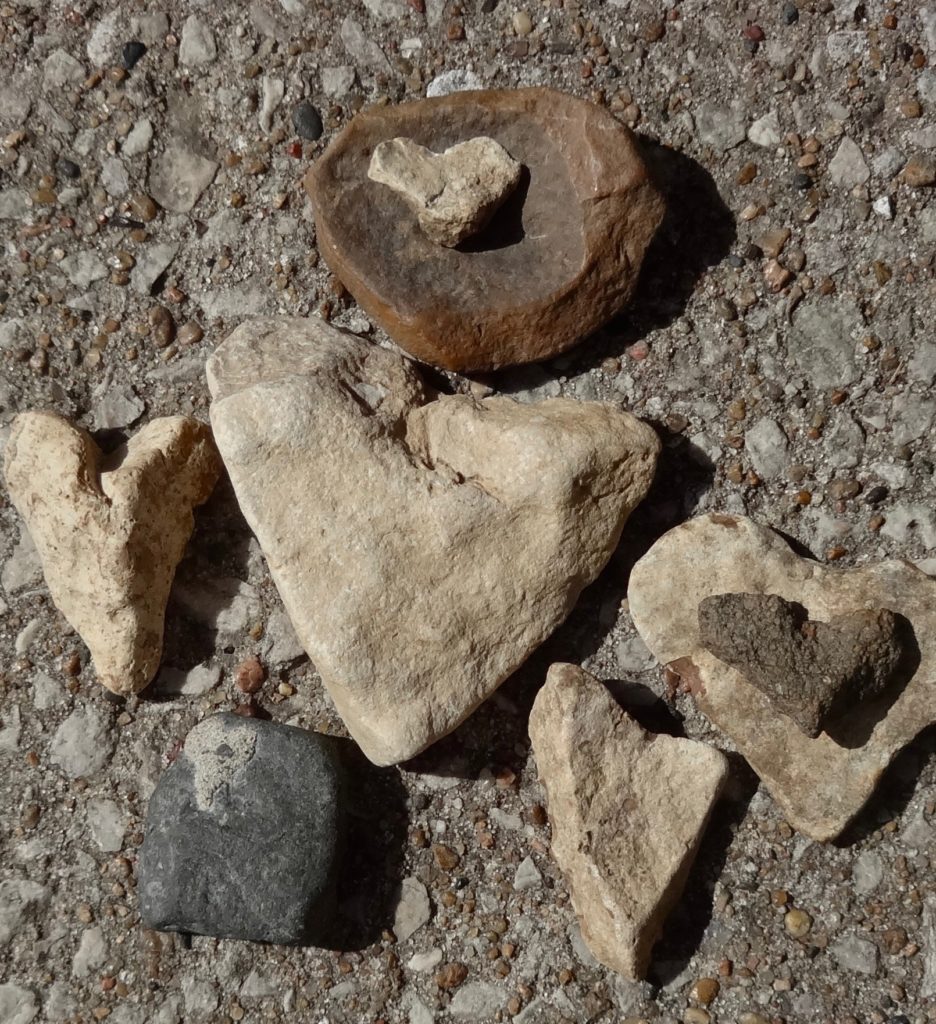 Heart-shaped rocks occupy my front porch and steps, living room bookshelves, mantel, and various other spots in my house. I've been given them by others, including a nice big one from a mystery giver (above). I've used them in various ways in my art, given them as gifts in pretty little bags with pretty little quotes, glued them to other rocks for catching dust in your home, and (of course) written a card about them. I have a vague plan for a small book full of "found heart" photos, with maybe a smattering of writing, but am too busy relocating the rocks I have (see below) at the moment for all that.
In my recent Studio Clean-Up, you may recall, I found that I had far too many of them piled on top of and under the table, far, far too many, and I placed a small box of the best ones on the curb. Others, I shook my head over. Why had I picked up that one or, unfathomably, that one?? Finally today I've released all of those back into the wild. My friend questioned how they will get along, released after all this time in captivity, not to mention relocated to a place other than where I found them. A very good point, but I can't be bothered with that. The bulk of them are enjoying life right now in a new creek while others (see below) are lined up on a bridge railing on the MKT, awaiting travel to their new homes in someone's pocket, to ultimately live on someone else's shelf. And hey, those ones are pretty good hearts, don't you feel? Passersby will love them.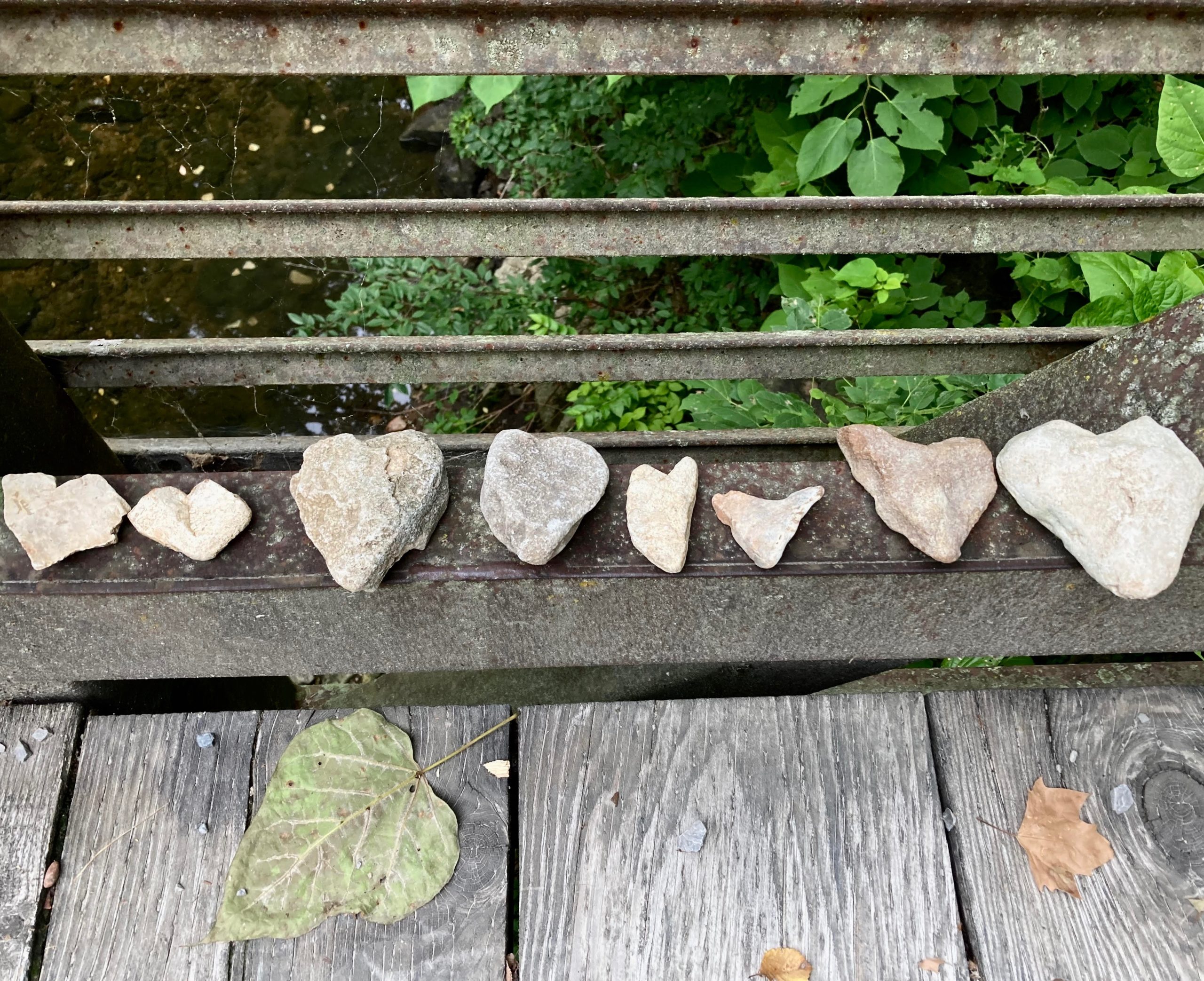 You, too, could start or add to your collection by visiting that bridge on the MKT, or by wandering one of the many creekbeds or gravel roads or paths where you live. There are also plain rocks with heart-shaped holes in them, to be found. Better go look, before the young collectors get them all. Your pockets are empty. Go.
"With your heart-shaped rocks and your rocky heart . . . oh you." – Greg Brown
"Adieu to disappointment and spleen. What are men to rocks and mountains?" ― Jane Austen, Pride and Prejudice
"Everything dreams. The play of form, of being, is the dreaming of substance. Rocks have their dreams, and the earth changes…."― Ursula K. Le Guin
"Rocks and minerals: the oldest storytellers." ― A.D. Posey
If you're looking for my cards or art, you'll find all of that on my website. And if you enjoy these letters, feel free to forward this one to anyone you think might like it. And if someone forwarded this one to you, you can sign up here to receive the letters right in your Inbox. Finally, you'll find past letters and poems here.
Thanks for listening,
Kay
P.S. MerryThoughts is the name of my first book, out of print at the moment. The word is a British one, referring both to a wishbone and to the ritual of breaking the wishbone with the intention of either having a wish granted or being the one who marries first, thus the "merry thoughts."