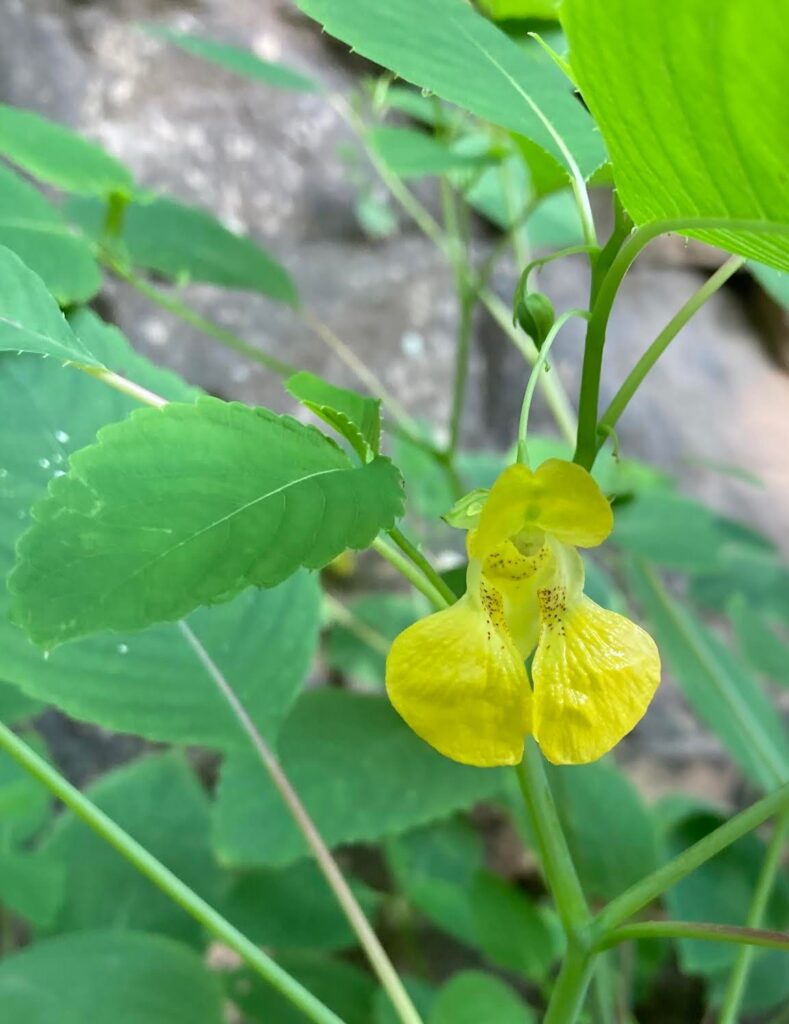 Here's a little bitty simple pleasure that never fails to make me smile. Recently, I shared it with a couple of out-of-towners on the trail here in Columbia, just because it's fun.
Jewel Weed, aka "Touch-Me-Not," aka Impatiens Capensis, is a lovely plant on its own, lush and green with large flat leaves that hold raindrops nicely. It's visually pretty even without blooms, but the blooms are quite lovely. They come in orange, with spots, and yellow. We have a lot of the yellow variety in the woods and along trails around here. I've had some in my yard, as well, alongside the little creek that runs through.

But wait! There's fun!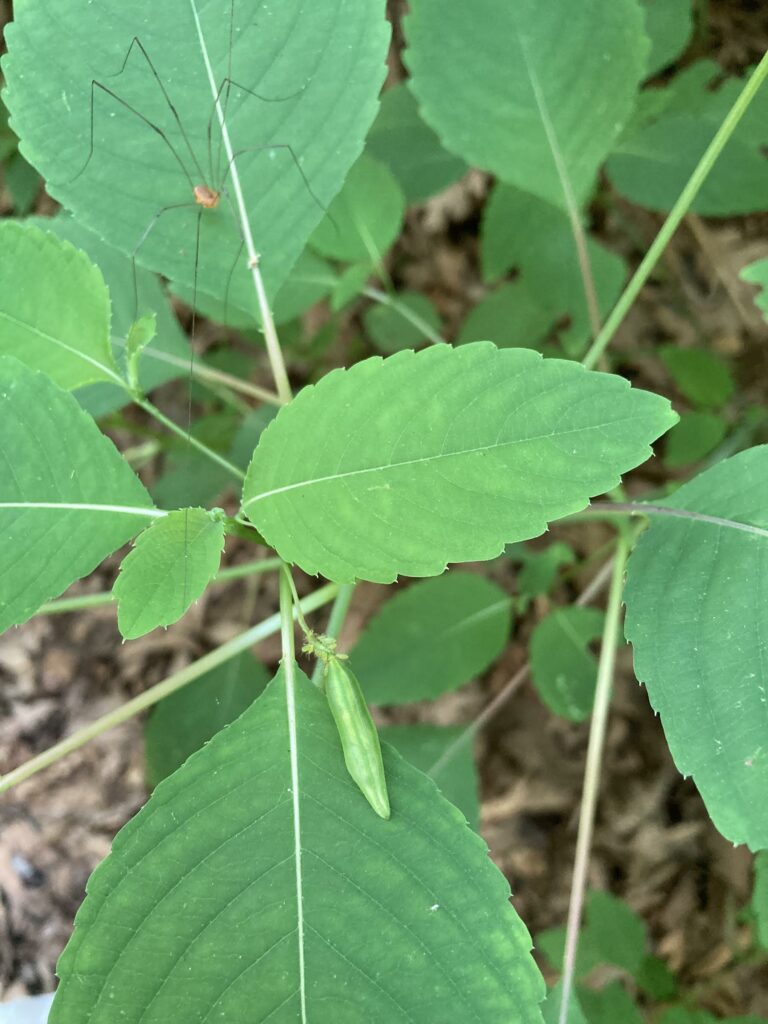 The fun comes in when they've put out their seed pods. We don't call them Touch-Me-Not because they sting or itch. It's because if you lightly press a fully ripe seed pod (like the one above) between your thumb and forefinger, it pops right open! Never fails to bring a smile. It's one of nature's more lively ways of propagating plants. And the coiled valve that pops it open and sometimes lands in your hand is pretty cool, too.
So kids and adults love to search for the pods that are just about ready to burst. If you walk along popular trails you'll often have to search pretty hard for them, because so many walkers are playing the Jewel Weed game.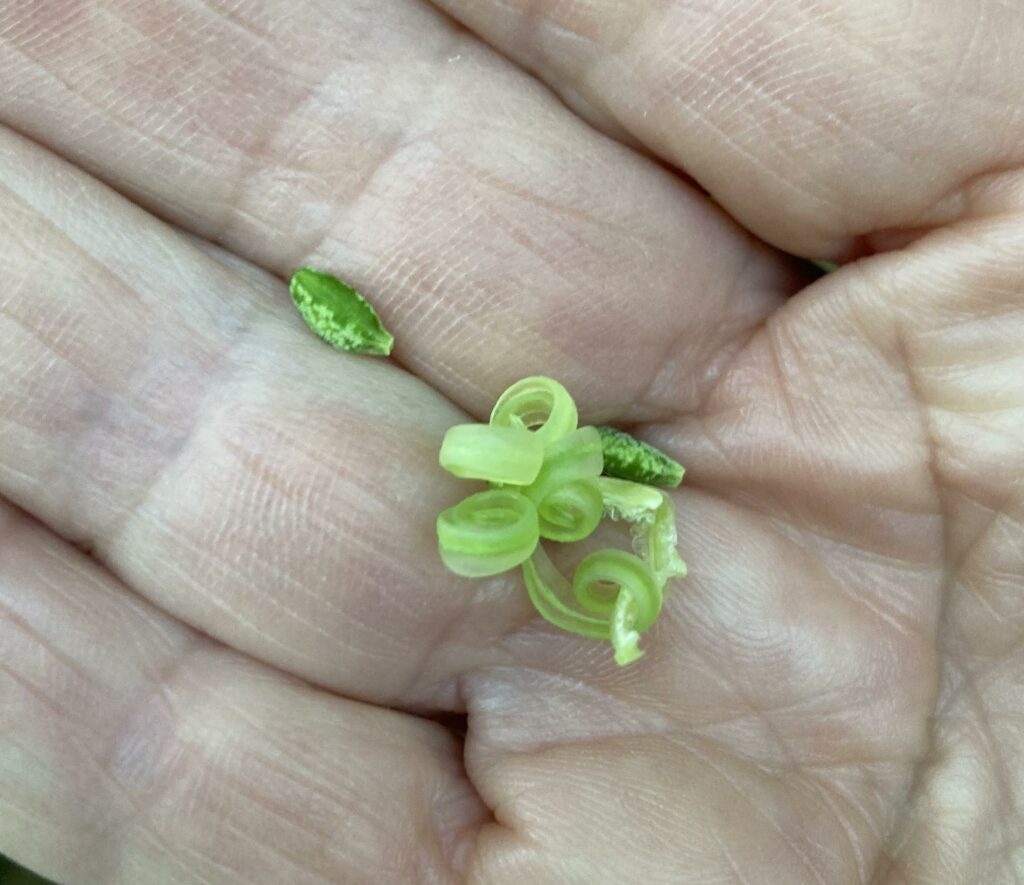 Jewel Weed can be medicinal, too, as an antidote to poison ivy. Robin Wall Kimmerer writes, in her wonderful book Gathering Moss, that you'll often find it growing near poison ivy. The cure often grows near the troublemaker. Isn't nature wonderful? It is.
So there's your woodland report from here. What's fun or interesting in your neck of the woods? Please do tell.
"Our indigenous herbalists say to pay attention when plants come to you; they're bringing you something you need to learn." ― Robin Wall Kimmerer, Braiding Sweetgrass
"Paying attention is a form of reciprocity with the living world, receiving the gifts with open eyes and open heart."― Robin Wall Kimmerer, Braiding Sweetgrass
"A Cheyenne elder of my acquaintance once told me that the best way to find something is not to go looking for it."― Robin Wall Kimmerer, Gathering Moss
If you're looking for my cards or art, you'll find all of that on my website. If you enjoy these letters, feel free to forward this one to anyone you think might like it. And if someone forwarded this one to you, you can sign up here to receive the letters right in your Inbox. Finally, you'll find past letters and poems here.
Thanks for listening,
Kay
P.S. MerryThoughts is the name of my first book, out of print at the moment. The word is a British one, referring both to a wishbone and to the ritual of breaking the wishbone with the intention of either having a wish granted or being the one who marries first, thus the "merry thoughts."