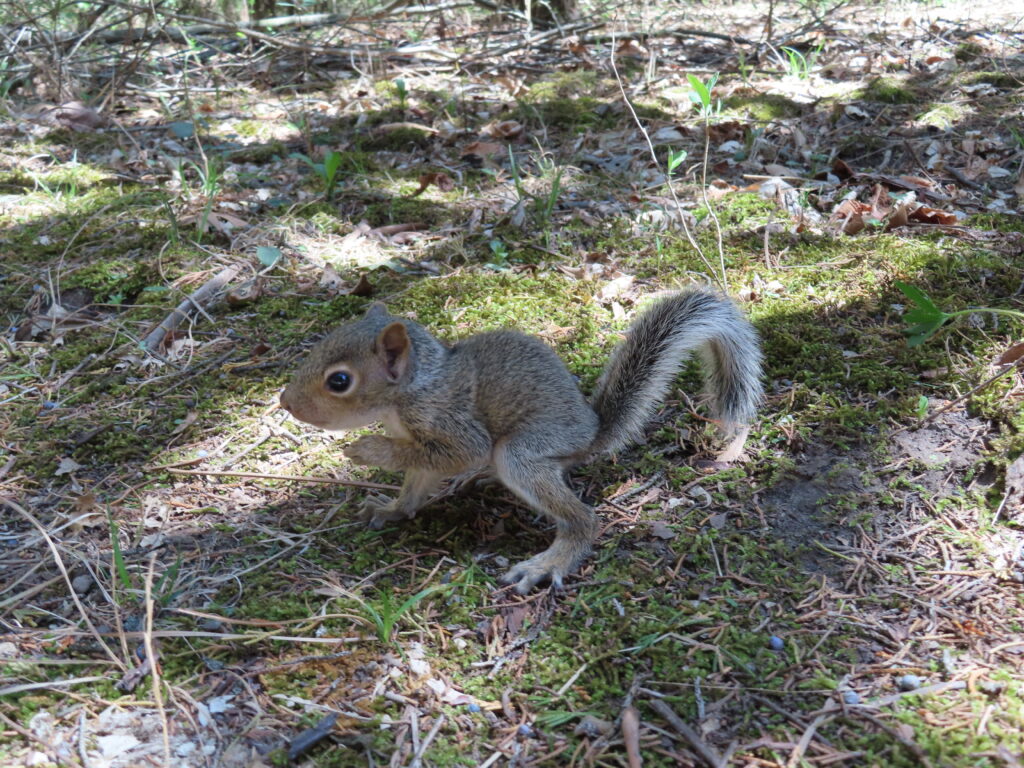 You just never know what you'll find in the woods!
Yesterday I took a long walk with a dear friend at one of my most beloved places–Gans Creek Wilderness Area. This is my favorite wild place in Columbia, meaning that, amazingly, we have several to choose from! We are incredibly lucky. I had looked forward to having another of our usual wide-ranging, heartfelt and thoughtful conversations as we walked–and I was not disappointed.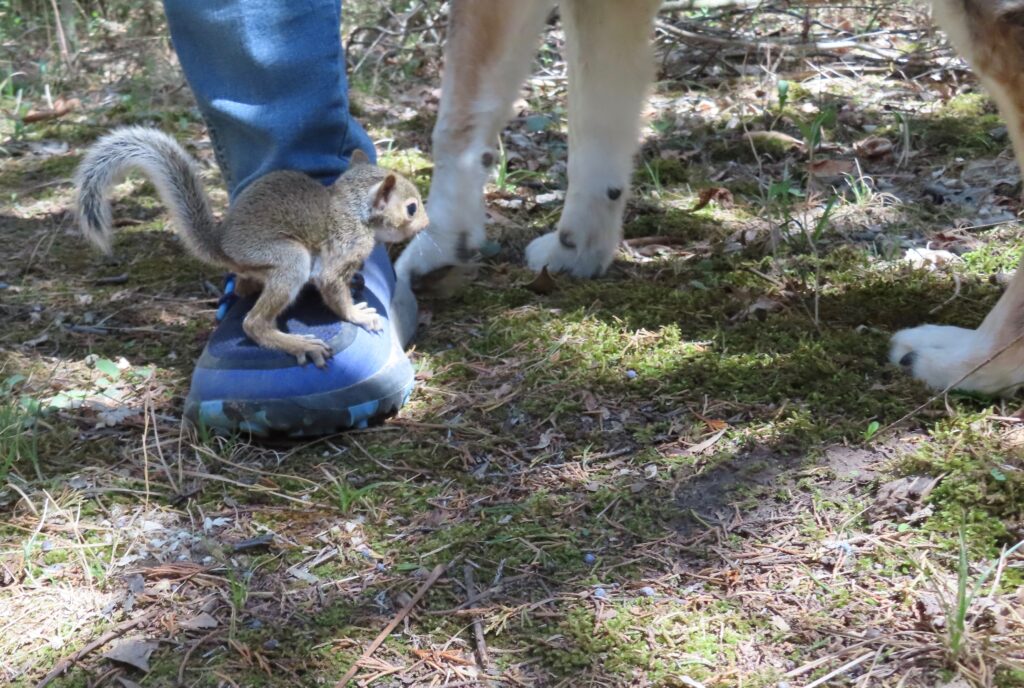 Gans Creeks is full of gifts for those who love to wander. There are woods, there's a big old creek, there are gorgeous blufftop views, there are maple groves. This is all year round, of course. Right now, there are the wildflowers. Oh my! They have just gone crazy out there. I've never ever seen so many trout lilies or Dutchmen's breeches in bloom in one spot! That was amazing.
Now to the titular little orphan. Luckily, I had not brought Miles, because walks of that length are now too hard on him. He would not have behaved well towards the little squirrel that was seemingly looking to be adopted. (I'm saying "he" just because my first inclination was that he was a little fellow.) He ran right up to us, oblivious of any possible danger, including my friend's exceptionally shy, considerate dog. He got right on Lynn's shoe and stayed awhile. He appeared to want to climb up her pants leg! He was completely unafraid of shy, considerate Olivia.

So tiny, so friendly, so adorable! I wanted to pick him up.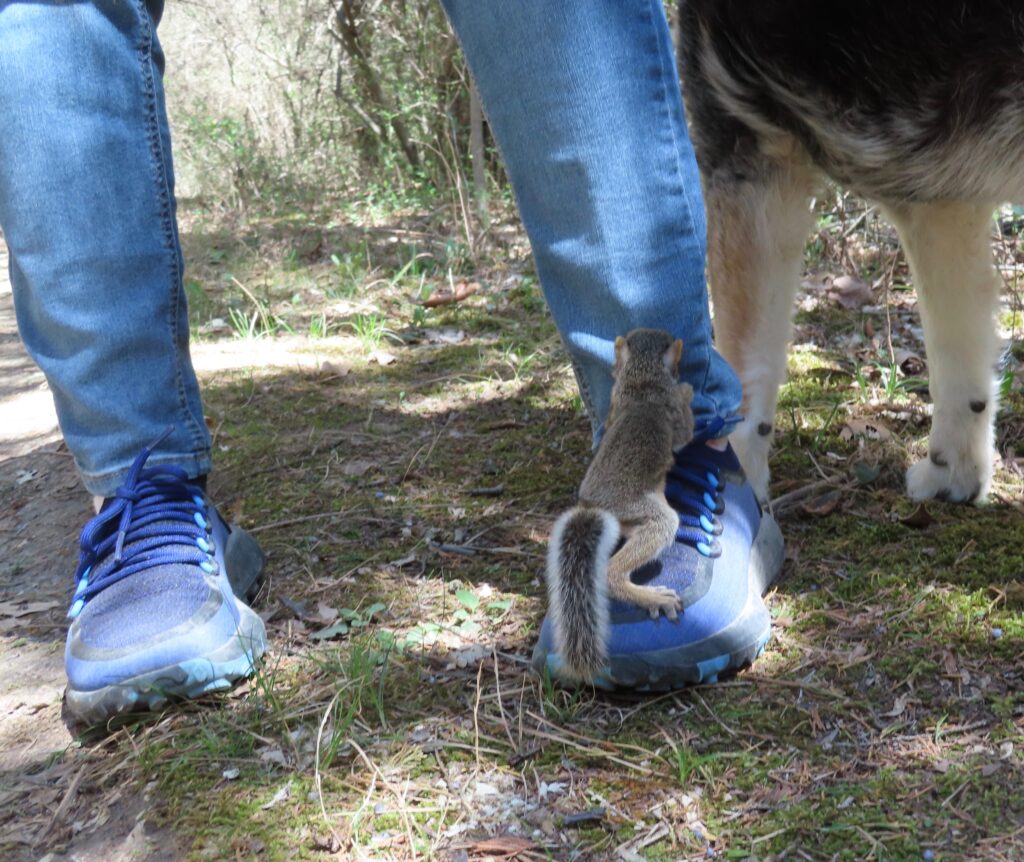 I didn't. But should I have done? We thought it best to leave him, in the hope that his real family would find him. But oh, that was a hard decision! At any moment there in the woods some ferocious animal (like Miles) might race up and grab him. Game over. But he so wanted to be with us! He even chased us down the path, as he had done with a family of humans walking ahead of us. Desperate for somebody to go home with. Oh oh oh. Did we do the right thing? I don't know. He would not have fared well at my house, I do know that. We naively hoped his own family would come for him.
Right or wrong, it felt like a huge privilege to have that encounter.
Later that evening I saw the two barred owls that frequent my backyard, together on a branch, grooming each other, while six deer cavorted beyond the fence. The young ones dashed back and forth across the creek, over fences, clearly having fun. That, too, was beautiful to see, and right in my backyard.
Golly! How I could ever complain about anything or not be thankful for everything I have? It boggles the mind.
"Let us rise up and be thankful, for if we didn't learn a lot today, at least we learned a little, and if we didn't learn a little, at least we didn't get sick, and if we got sick, at least we didn't die; so, let us all be thankful." — Buddha
"Silent gratitude isn't very much to anyone." — Gertrude Stein
"I suspect that it was simply that I had admired the earth, and the universe. The more I say and think that I admire it, and love it, the more it gives me what I admire, or strange coincidences that leave me in more awe than I was before." ― Michael Whone, Winter Lyric
If you're looking for my cards or art, you'll find all of that on my website. If you enjoy these letters, feel free to forward this one to anyone you think might like it. And if someone forwarded this one to you, you can sign up here to receive the letters right in your Inbox. Finally, you'll find past letters and poems here.
Thanks for listening,
Kay
P.S. MerryThoughts is the name of my first book, out of print at the moment. The word is a British one, referring both to a wishbone and to the ritual of breaking the wishbone with the intention of either having a wish granted or being the one who marries first, thus the "merry thoughts."