The Striped Towel
My brother and I traveled from Missouri for my sister's 70th birthday bash.  We both stayed at my other sister's house in El Cerrito, where I have had the pleasure of staying many times.  I know her small home and most of what's in it very well.  The felted wool children's slippers from someplace in South America and her partner's childhood teddy bear on top of the book case.  The small painting of a dog, made by one of her clients.  The small perfect seashells lined up below the bathroom mirror.  The ever-changing photo gallery in the hall, including, at least when I visit, photos of me and my two dogs.  The round French tablecloth with its weights for eating out on the deck.  All the little niceties.  I even know her bathroom towels.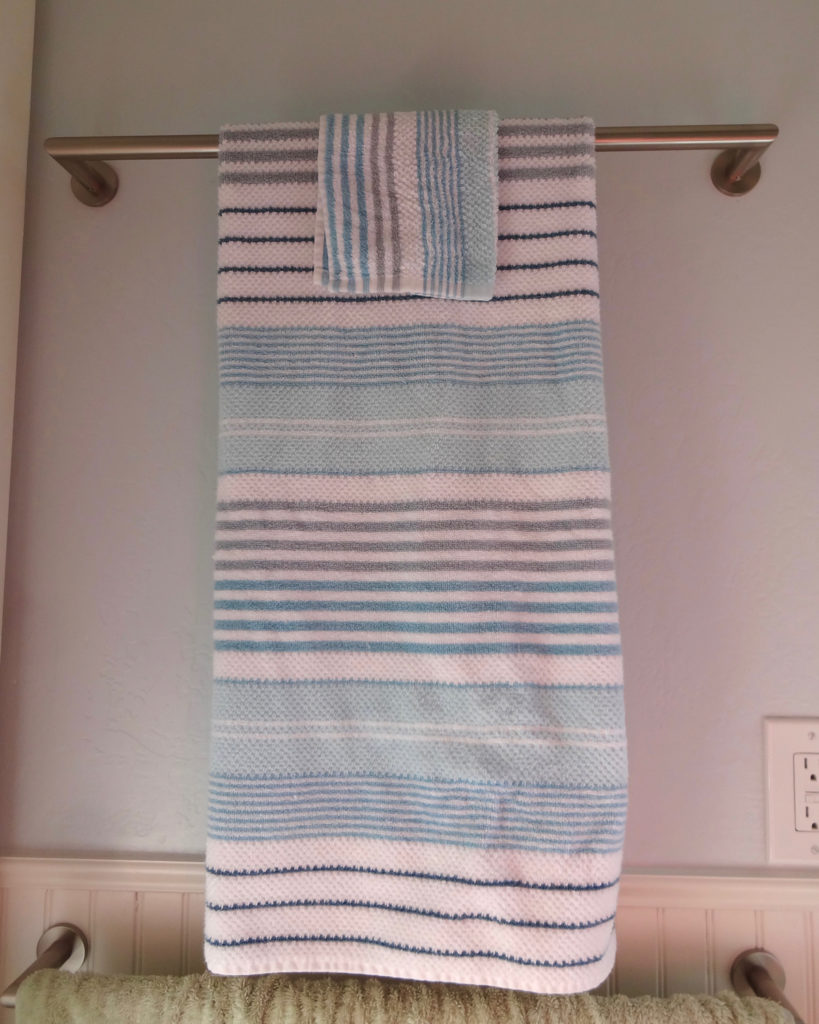 On this visit, there were two bath towels hanging in the guest bathroom, since two of us were visiting.  On the top bar was a new striped towel, in various lovely shades of sky and sea glass blue on a white background.  Oh, I loved the look of that new towel!  It just had a soothing, calming air to it, reminiscent of the ocean and easy summers.  Thinking I'd be first in the shower next morning, I set my sights on using that new towel.  My brother wouldn't care two hoots about which towel he'd use.
But to my chagrin, I found that towel damp and crumpled the next morning when I went in for a shower. I could not help but express my disappointment when we were all together. Don had claimed the striped towel. Oh, the look of bafflement on his face! It said, How could you possibly care which towel you use? Always the gentleman, he had very considerately used the towel that was hanging highest, since I am not at all what you would call tall. My sister Mary completely understood my view. It is a very nice towel and aesthetics matter very much to me and to her.
Here at home I notice myself examining the forks at dinner to choose the least tarnished one.  I like to have the curtains drawn in such a way that the curtain rings are evenly spaced apart.  Even now, at home all day due to the coronavirus, I consider which earrings I will wear.  I like a certain spoon for ice cream, a particular other type of spoon for soup or salsa.  My son delights in pulling the curtains across recklessly, offers me a long-handled iced tea spoon for ice cream (if you can believe that), a dessert fork for dinner!   
At Mary's house I wanted not just to see the striped towel hanging in the bathroom; I wanted it for my towel for the week.  
This is both a curse and a blessing, the curse being little disappointments–but oh, the blessing!  I take pleasure in all of the small things–the striped towel, the artful shape of numbers on anyone's address, the curve of a blade of grass, the fallen leaf caught in a shrub, the interesting rock, the clouds moving across the sky, the scent of my dog's fur.  I could go on.
You might suggest that I go out and buy myself a striped towel.  But no.  I want to enjoy that striped towel the next time I visit my sister, which won't be soon, I'm afraid, but will happen one day when all the craziness is over.